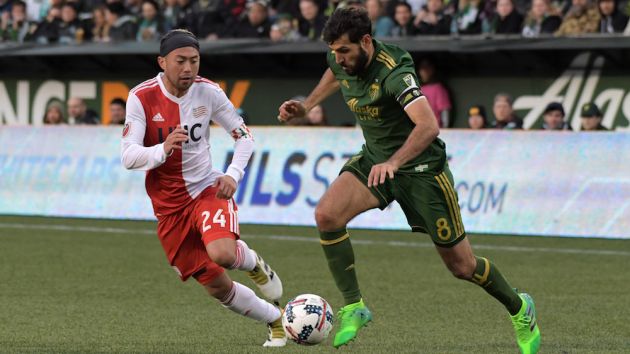 Major League Soccer (MLS) has announced that just four cities will be considered for the league's next two expansion slots, which are due to be awarded before the end of the year.
The league announced on Wednesday that Cincinnati, Detroit, Nashville and Sacramento have all been chosen from a long-list of 12 cities, and that prospective ownerships groups from each city will make formal presentations to MLS commissioner Don Garber and the league's Expansion Committee on 6th December in New York.
"The leaders of the Cincinnati, Detroit, Nashville and Sacramento MLS expansion ownership groups have bold visions and innovative plans for their clubs, stadiums and their involvement in their respective communities," Garber said in a statement.
"We are pleased these highly-respected business and sports leaders have been so determined to bring Major League Soccer to their cities. We have been greatly encouraged by the progress that all four of these groups have made and we are looking forward to their presentations."
Cincinnati's bid is being spearheaded by Carl H. Lindner III, the co-chief executive of American Financial Group and the owner of FC Cincinnati, the second-tier United Soccer League (USL) club that will join MLS if the city's expansion proposal is accepted.
On Monday, the Cincinnati City Council approved a crucial funding package for a new soccer-specific stadium that will be built in the city's Oakley neighbourhood should FC Cincinnati receive a place in MLS.
In Detroit, the MLS expansion bid is led by Dan Gilbert and Tom Gores, the respective owners of the Cleveland Cavaliers and Detroit Pistons basketball teams. The Detroit bid recently announced that its team would play at Ford Field, home of the Detroit Lions National Football League (NFL) franchise.
Nashville's effort - which also secured a stadium financing plan earlier this month - is being fronted by John Ingram, the chairman of Ingram Industries Inc and chief executive of Nashville Soccer Holdings, which owns the Nashville Soccer Club. Ingram also has the backing of the Wilf Family, the owners of the Minnesota Vikings NFL team.
In Sacramento - a market that has long been seen as a frontrunner in the race for MLS having secured a stadium deal many months ago - the bid is led by Kevin Nagle, the managing partner of Sac Soccer & Entertainment Holdings and minority owner of the Sacramento Kings, with the support of Jed York, chief executive of the San Francisco 49ers NFL team, and other investors.
Following next week's presentations, the MLS board of governors will have further discussions on expansion with representatives from each of the league's clubs in New York on 14th December. A final decision is expected shortly after that meeting, with the two selected teams likely to join the league in 2020.
The four competing ownership groups were among 12 markets that submitted formal bids in January for a spot in MLS, which currently includes 22 teams and is due to add another in Los Angeles next year. Discussions regarding David Beckham's proposed Miami franchise are also continuing.
This year, the league added new franchises in Atlanta and Minnesota, with Garber having previously set a target of expanding to 28 teams in the coming years.
While only Cincinnati, Detroit, Nashville and Sacramento are being considered for the next two expansion slots, the league has said the other eight cities will be considered for the following two teams. Those cities are Charlotte, Indianapolis, Phoenix, Raleigh/Durham, St. Louis, San Antonio, San Diego and Tampa/St. Petersburg.