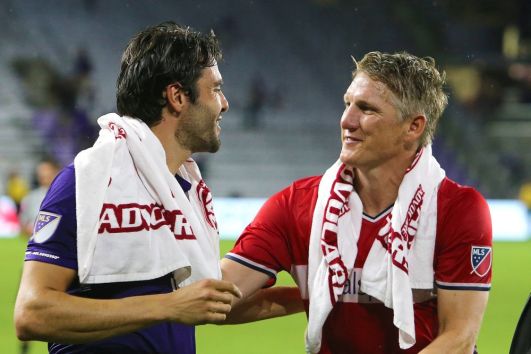 Major League Soccer (MLS) has signed a wide-ranging streaming partnership with Twitter.
Under the terms of the deal, the social media platform will have rights to live and on-demand content each week for the next three years.
Twitter will show at least 24 live matches per season, with the games to be made available in the US via the @MLS and @UnivisionSports Twitter handles.
A package of highlights and features will be available to Twitter users worldwide via the @MLS and @FutbolMLS handles.
In addition, the social media company will collaborate with MLS on initiatives to support the league's major events during the season.
Advertising packages relating to Twitter's MLS coverage will be made available for sponsors.
The live streaming feed will come from the Spanish-language Univision TV network, though on Twitter the games will be shown with English commentary.
Last year, MLS partnered with social media giant Facebook for a similar programme of live weekly games.
The news comes after Facebook last week announced a partnership with Major League Baseball (MLB) for 24 live games, beginning in April.
"We are excited to collaborate with Major League Soccer to bring live soccer matches and video highlights to Twitter," said Kay Madati, global head of content partnerships at Twitter. "Passionate MLS fans will now have live match day action alongside real-time commentary from experts and fellow fans all in one place."
Chris Schlosser, senior vice president of media at MLS, said his organisation "constantly strives to connect with fans in new and innovative ways".
He added: "Our fans are the youngest and most socially engaged in pro sports, which is why we are excited to partner with Twitter to feature live matches on their platform."
Twitter kicked off its streaming with Real Salt Lake City's 5-1 home defeat to Los Angeles FC on Saturday.