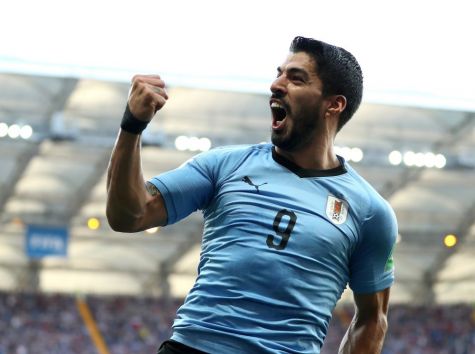 Uruguayan soccer star Luis Suarez has announced that he has swapped Adidas for rival German sports apparel giant Puma as his sportswear sponsor.
The Barcelona striker revealed the UK£1 million per year deal in an animated video posted on his official Twitter account.
The 31-year-old had previously been partnered with Adidas for more than a decade, but talks over a new deal had stalled, with Suarez playing in blacked out boots featuring no sponsors during friendly matches over the summer.
The cartoon reveal shows Suarez – dressed as a cowboy – entering a Wild West bar full of animated versions of Puma's other major soccer clients. Stars including Romelu Lukaku, Mario Balotelli and Olivier Giroud are all present in the clip.
Alongside the video, Suarez tweeted: 'Forget the past. Be the FUTURE! I'm very excited to announce and join the Puma football family.'
Suarez will become the only major name at Barcelona, his club side, to be sponsored by Puma, although his national team's shirts are also manufactured by the German brand.
As part of the agreement, the Uruguayan will wear Puma Future boots to kick off the partnership.