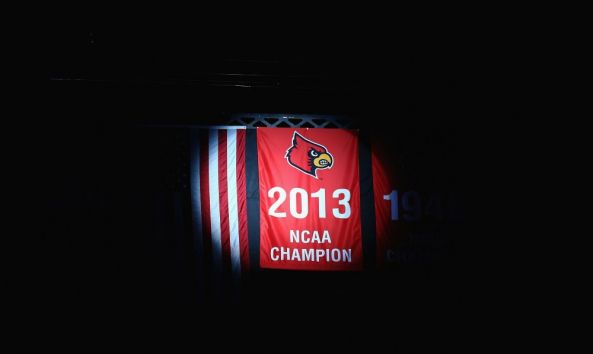 The National Collegiate Athletic Association (NCAA) is being sued by a group of ex-University of Louisville basketball players.
The lawsuit is a result of the NCAA's 2017 decision to strip the Cardinals' of their results from 2010 to 2015, which included the 2013 National Basketball Championship and 2012 appearance in the Final Four.
The monetary damages associated with the suit have not been disclosed.
The NCAA initially penalised the Louisville basketball program in June, 2017, for violations of its ethics code by former Cardinals' head of operations Andre McGee. McGee was barred from program involvement for 10 years after being found guilty of arranging prostitutes and strippers for players and prospects. Ex-coach Rick Pitino was also banned for five games for failing to monitor his staff.
The players are suing on grounds that the program was cast in a false light by the NCAA and was wrongfully stripped of its accolades.
Perhaps most notable of the plaintiffs is Luke Hancock, former team captain and 2013 Final Four Most Outstanding Player. John Morgan, the attorney for Hancock and four other members of the 2013 title team, echoed the popular sentiment that the NCAA exploits and takes advantage of its student-athletes, describing it as a "morally bankrupt organisation that has taken advantage of economically disadvantaged young people throughout our country".
Hancock rejects any involvement with the scandal, and stated that nothing could take his title ring off his finger.
"It's been five years and I can't tell you two days where I've gone without having someone come to me and ask me if I had strippers or prostitutes in the dorm. I'm excited that Morgan & Morgan has partnered with us and is going to represent us because enough is enough," said the Cardinals' former captain.
Legendary coach Pitino, who was at the helm of both the 2012 and 2013 Cardinals teams, was recently fired for his involvement in a federal corruption probe into NCAA basketball. While he will not be involved with this case, he is currently involved in his own lawsuits against the university as well as former sponsor Adidas.