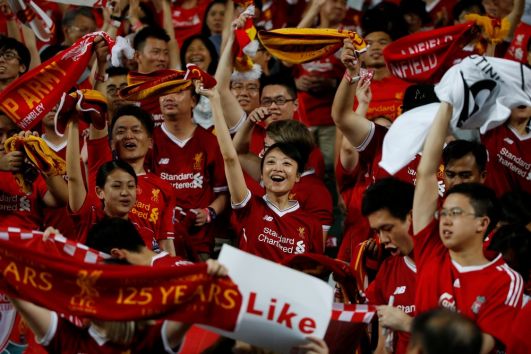 English soccer side Liverpool have signed a regional partnership with Chinese mineral water brand Tibet Water.
Under the terms of the agreement, Tibet Water will work closely with the Premier League outfit on marketing and promotional campaigns in China. It will have a strong brand presence on the Reds' Chinese language site and their WeChat social media platform.
Liverpool players, past and present, will lend their images to future Tibet Water advertising campaigns. Neither the financial terms nor the duration of the contract have been released.
"This marks a major milestone in Tibet Water Resources' development," said Sunny Wong, executive director of Tibet Water Resources. "We are proud to be Liverpool FC's official regional water partner in China, one of the world's most renowned football teams with a massive fanbase around the globe.
"We look forward to working with Liverpool FC to create unique experiences for both fans and customers."
Billy Hogan, managing director at Liverpool, added: "We are proud to welcome Tibet Water to the LFC family as a regional partner in China. We have so many supporters here in Asia as we've just seen from two sold-out matches last week in Hong Kong. We look forward to working together with Tibet Water to create opportunities to further engage with our supporters whilst helping to further build their brand in China."
Ahead of the 2017/18 Premier League season Liverpool have been taking part in the pre-season Premier League Asia Trophy in Hong Kong. The Reds won the four-team knockout competition, beating 2015/16 Premier League champions Leicester City 2-1 in the final at the Hong Kong Stadium on 22nd July.
Liverpool's next fixture is a friendly against top-tier German side Hertha Berlin on 29th July.