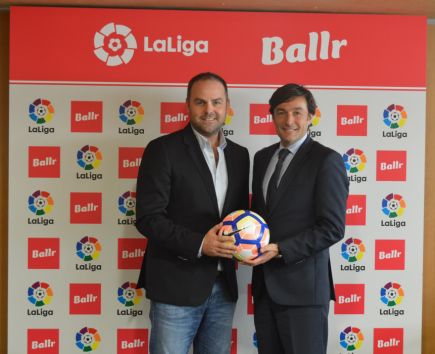 Live fantasy app Ballr has signed a three-year sponsorship agreement with La Liga, the organisational body for Spanish soccer's top two professional leagues.
The Singapore-based company will develop a bespoke digital game for fans of Spanish soccer. The app will allow users to select soccer stars, whose performances will earn them points that can be converted into prizes.
The online platform will also have a strong brand presence at La Liga events for the duration of the deal, while the league, which has had an office in Beijing since 2004, will use the partnership to expand its profile across Asia.
No financial terms were released.
"This agreement with Ballr is an excellent opportunity for LaLiga fans to come into contact through a digital medium and it's also a fantastic way for them to connect with LaLiga Santander," said Javier Tebas, president of La Liga.
"Just as we have explained on other occasions, LaLiga wants to be close to its fans and that is why efforts are being made in various areas to give them something extra during matches."
Ballr agreed a developmental sponsorship of Premier League side Manchester City in 2016.