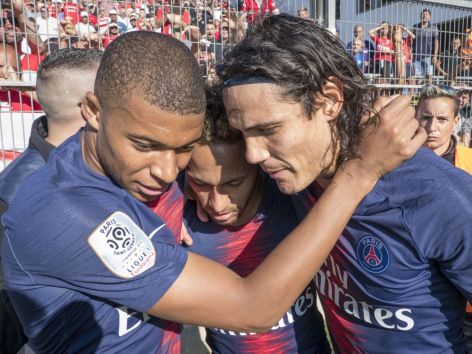 French cable television channel Canal Plus will broadcast games from France's top soccer league Ligue 1 from the 2020/21 season, claims Maxime Saada, the chairman and chief executive of the pay-TV network.
Saada's words come despite the Vivendi-backed Canal Plus failing to secure any rights to the division in this year's auction for the 2020 to 2024 period. Instead, MediaPro, a Spanish TV production group majority-owned by Chinese private equity fund Orient Hontai, Qatari sports network BeIN Sports and French telco Free have all secured deals that saw the five main Ligue 1 packages sold for a combined annual total of €1.153 billion (US$1.33 billion) in four-year agreements.
Didier Quillot, chief executive of the governing body of France's professional soccer leagues (LFP), told a press conference in May that the deal represents a 59.7 per cent jump on the previous five-year agreement, which totalled €726.5 million (US$??? million) per year.
Nevertheless, Saada told French radio station France Inter that he was sure that Canal Plus would ultimately retain the rights that the channel currently holds, either by agreeing a distribution deal with Mediapro, or by purchasing sub-licensing rights.
He said, citing the reliance of the company's rivals: "I can assure you that we will broadcast Ligue 1 beyond 2020. I can assure you, I am certain of it. There is no economic model for the other players."
Of Mediapro, whose three packages will cost €780 million per year, Saada said: "They made contact with us right away. We met very, very quickly. It (Mediapro) is above all a broker who needs Canal Plus to distribute."
The statement goes against comments made by Mediapro manager Jaume Roures following the announcement of the rights deal, who ruled out sublicensing the rights. He declared: "We have no intention to resell the rights. You'll see it will be possible to make a channel at €25 per month (for all matches)."
However, Saada explained that Mediapro had contacted Canal Plus in order to discuss a potential carriage agreement. Mediapro plans to launch a soccer channel following its acquisitions, one of which includes the exclusive rights to Ligue 1's ten biggest games.
Saada added, however: "We are the leading distributor of BeIN Sports in France, as we are the leading distributor of OCS, Orange's cinema channel. We are in the business of distributing channels. No player can do without us and certainly not Mediapro whose business model is very risky. We are studying all the models because I am committed to seeing football on Canal Plus."
He also stated that similar carriage negotiations were ongoing with pay-TV network RMC Sport, with a deal said to be close. RMC Sport – formerly SFR Sport – currently holds the rights to English soccer's Premier League, as well as exclusive rights to both the Uefa Champions League and Europa League.