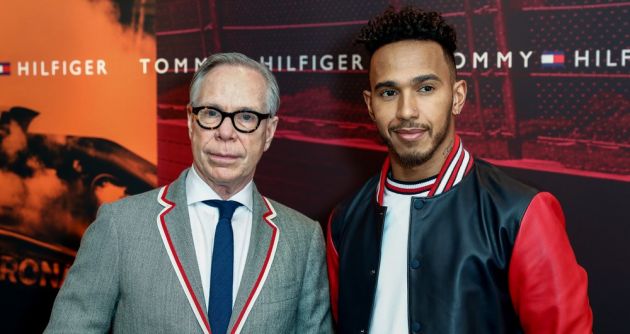 Four-time Formula One world champion Lewis Hamilton has become a global brand ambassador for Tommy Hilfiger.
The personal endorsement deal will see the British Mercedes driver, 33, promote the US clothing brand's Hilfiger Collection, Tommy Hilfiger Tailored line and its range of menswear, underwear and swimwear.
The partnership will feature video, print, online and out of home media placements, and will be supported by a series of unique customer activations. The collaboration was launched with a dash cam video of Hamilton and American model Gigi Hadid taking turns behind the wheel of a Mercedes car at the Pocono Raceway in Pennsylvania.
The news comes shortly after Hamilton's Mercedes team announced a multi-year strategic partnership with Tommy Hilfiger, making the company the official apparel partner of the motorsport outfit.
"I believe in the power of fashion and innovation to celebrate individuality and break conventions, like Tommy Hilfiger," said Hamilton. "Tommy's designs inspire me to be bold in every outfit that I put together outside of the racing track, expressing my creativity and eclectic style with confidence. His ground-breaking TommyNow experiential events are one-of-a-kind, and I'm very excited to partner with such visionary brand."
"I have always admired Lewis' incredible endurance during the race, as well as his unique style off the track, which speak to the new generation of TommyGuys," added Tommy Hilfiger. "He has built his incredible career as a racing driver with passion, dedication and extremely hard work – values that I embraced when founding my brand.
"We have a history with Formula One, and this partnership builds on our heritage of collaborations within the world of motor sport."
Meanwhile, Mercedes have announced a one-year extension of their partnership with analytics software company Tibco, which will continue to equip the team with its advance solutions to support strategic decisions based on data collected from their race cars.
Hamilton and Mercedes will be defending their respective drivers' and constructors' world titles this season, which gets underway with the Australian Grand Prix in Melbourne on 25th March.