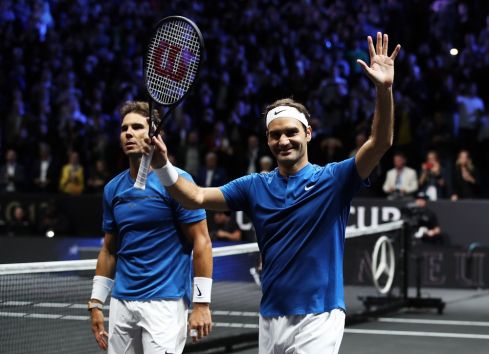 The organisers of the Laver Cup have revealed plans to make the three-day international team tennis tournament an annual event.
The event, which was launched in 2017, and pits 'Team World' against 'Team Europe' against one another in a format reminiscent of golf's Ryder Cup, was initially scheduled to take place every three years, before taking a year off in 2020, when the summer Olympic Games are set to take place in Tokyo, Japan.
However, plans have been confirmed to stage the event in 2020 and every year going forward, in response to "strong market demand".
The European venue for next year's tournament will be revealed in the coming weeks, with a decision on the host city for 2020 to be announced in due course.
Laver Cup managing director Steve Zacks said that the decision comes "on the back of Prague, strong player interest, and the amazing public and commercial response for this year's event in Chicago", adding that "the time is right to publicly map out our next phase of growth."
He continued: "The intense competition, great team chemistry, the black court, unique scoring system, innovative broadcast and superb fan experience all contributed to a benchmark we aim to exceed in Chicago and each year thereafter. There is no reason to take a year off."
Organisers said that further announcements on commercial partners and broadcasters for the Laver Cup will be announced in the coming weeks. Current partners include Rolex, Mercedes-Benz, JPMorgan Chase, NetJets and Grey Poupon.
The Laver Cup is set to be one a number of men's team events on the calendar for 2020, with the Association of Tennis Professionals (ATP) having recently partnered with Tennis Australia to return the World Team Cup to the schedule in two years' time. The news also comes after the International Tennis Federation (ITF) announced plans to revamp the Davis Cup.
The Laver Cup debuted last September in Prague, when Team Europe claimed a 15-9 victory over a Team World side, and attracted a sell-out crowd of 18,000. Chicago's United Center is due to host the 2018 event from 21st to 23rd September, with Novak Djokovic and Juan Marin del Potro having already committed to competing there.