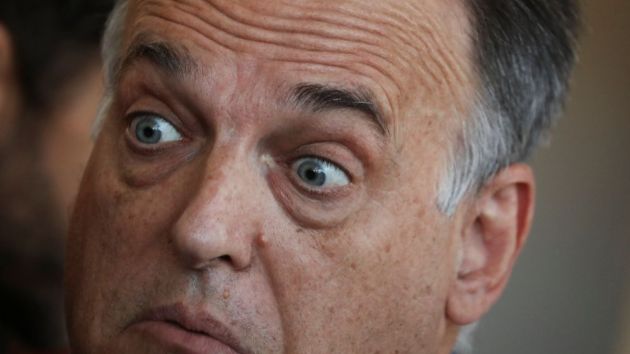 Top-flight Spanish soccer league La Liga is reportedly fighting to keep Javier Tebas after its president was offered the top job at Italian rival Serie A.
Luigi De Siervo, chief executive of Serie A advisors Infront, confirmed that Tebas, 55, had been made an offer by the Italian soccer league to become its new chief executive. Tebas is believed to have been offered a four-year, €1.2 million contract to move to Italy.
Now, according to reports in Spanish sports newspaper AS, La Liga has offered to match the money on offer from Serie A in a bid to retain Tebas' services.
In an interview with Gazzetta dello Sport on Thursday, Tebas revealed that he was seriously considering the Italian offer.
He said: "I love the challenge. Work does not scare me; rather, it stimulates me. That's why the Italian proposal fascinates me so much. I know there is so much to do because I have known some clubs and I have studied the situation. The problem is another. We'll see what my family thinks about the issue."
The wrangle over the La Liga president comes in the wake of Serie A awarding its domestic broadcast rights to Spanish company Mediapro, in a deal worth €3 billion over three seasons, earlier this week.
In the same Gazzetta interview, Tebas was forced deny links between Mediapro president Jaume Roures and his son Javier Tebas Llanas.
"It is not true that he sells advertising for shows managed by Mediapro," he said. "My son works for the company that produces a television programme aired on a Mediapro channel. But Mediapro has nothing to do with that company and in any case does not sell advertising, manage the social profiles of the producers or influence the company."