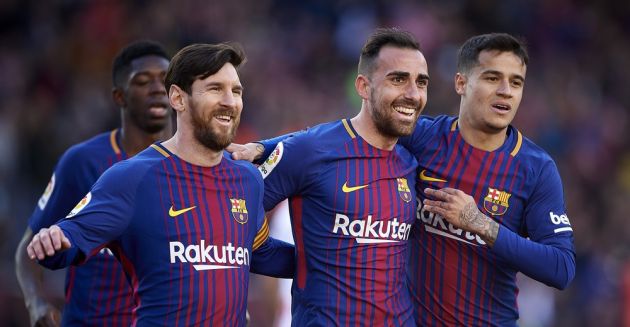 La Liga has confirmed a landmark rights deal with Facebook that will allow fans in the Indian subcontinent to watch every game for free on the social media network for the next three years.
The agreement, which was first reported in July, gives Facebook coverage of all 380 matches each season from Spanish soccer's top flight, which gets underway on Friday when Girona host Real Valladolid. The games will be available to viewers in India, Afghanistan, Bangladesh, Bhutan, Nepal, Maldives, Sri Lanka and Pakistan.
La Liga and Facebook chose not to release the financial terms of the deal. Sony Pictures Network, which held the rights in the region between 2014 and 2018, paid US$32 million, according to the Reuters news agency.
"We are really happy to be on a free-to-air service in such an important territory as the Indian subcontinent," said Alfredo Bermejo, La Liga's head of digital strategy, speaking to Reuters.
"One of our goals for the last two years has been to offer content to the widest audience possible, so partnering with free platforms like Facebook, which has 270 million users in India, is key to us."
The games will initially be shown without adverts, although Facebook is doing trials in advertising on live content in the US which could later be replicated in its La Liga coverage. Peter Hutton, Facebook's head of global live sports programming, described the partnership as an experiment rather than a sign that the company is about to announce a raft of further deals.
"Were looking at a few other deals that are quite close to completion but this is not about going out and buying a huge amount of content worldwide," said Hutton, also speaking to Reuters. "We're looking at specific rights in specific markets and to try to learn from data from those experiences and work out what the next step is. If you rush into too many deals at once, you can't do it properly.
"This is one deal, it's not something that is a big threat to the broadcast world. We have rights to work with broadcasters and we may bring in partners to make sure the experience is right. What's clear about this is that 380 games will be available on Facebook, then we'll keep our options open as to how we spread that content out so people can see it in as many ways as possible."
Facebook's tie-up with La Liga comes after the social media giant reportedly snapped up rights in Thailand, Vietnam, Cambodia and Laos to English soccer's Premier League in a deal worth UK£200 million over three years, although that deal is yet to be confirmed.
The move is the latest statement made by tech companies after Amazon landed one of the Premier League's domestic rights packages back in June.
Facebook made its intentions in sport clear last year with a US$600 million bid for Indian Premier League (IPL) cricket, while it also broadcasts weekly Major League Baseball (MLB) games.