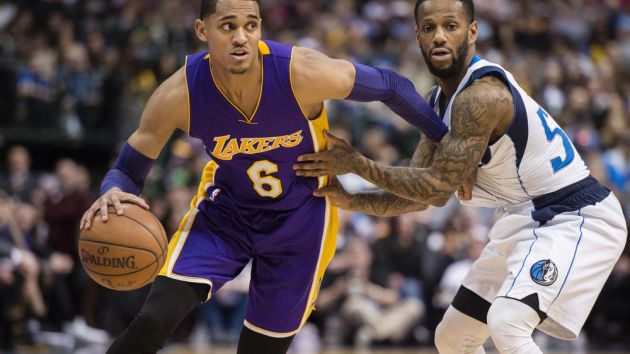 The National Basketball Association's (NBA) Los Angeles Lakers have named Wish as their first ever jersey patch sponsor.
In a three-year deal announced on Thursday, the e-commerce platform's logo will adorn the California-based franchise's uniforms starting from the 2017/18 season.
According to industry outlet SportsBusiness Daily, the agreement will earn the 16-time NBA champions somewhere in the region of US$12 million to US$14 million for each year of the partnership.
In return, Wish will benefit from a large-scale integrated marketing programme, including fan engagement at the club's Staples Center and social and digital activation. The two parties will also collaborate on various community initiatives within Los Angeles and other surrounding areas.
"We are thrilled to welcome Wish as a new partner of the Los Angeles Lakers," said Tim Harris, president of business operations and chief operating officer for the Los Angeles Lakers. "When it came to the jersey patch, knowing its prominent placement, our goal was to partner with an innovative and ambitious global company. Wish more than checks that box.
"They are a leader in e-commerce and are constantly striving to grow and improve their brand and how they connect with their consumers. In addition, and most importantly, we are excited to partner with a company that shares our commitment to giving back to the community."
"We are incredibly pleased to partner with the NBA's most iconic brand," added Peter Szulczewski, chief executive of Wish. "The Lakers epitomise a legacy of excellence and worldwide success. This partnership symbolises our shared focus to reach all fans, not only within the LA community, but across every continent."
NBA teams are able to sell a 2½-by-2½-inch patch on the left shoulder of their jerseys for the first time this season as part of a three-year pilot scheme introduced by the league last year. Industry insiders estimate most agreements will be worth anywhere between US$5 million and US$10 million per year, though some teams will exceed that figure.
The other 15 teams that have already secured jersey sponsors are the Philadelphia 76ers (StubHub), Boston Celtics (General Electric), Sacramento Kings (Blue Diamond Growers), Orlando Magic (Disney), Cleveland Cavaliers (Goodyear), Minnesota Timberwolves (Fitbit), Utah Jazz (Qualtrics), Brooklyn Nets (Infor), Toronto Raptors (Sun Life Assurance Company), Detroit Pistons (Flagstar Bank), Denver Nuggets (Western Union), Milwaukee Bucks (Harley-Davidson), Atlanta Hawks (Sharecare), Golden State Warriors (Rakuten) and Miami Heat (Ultimate Software).