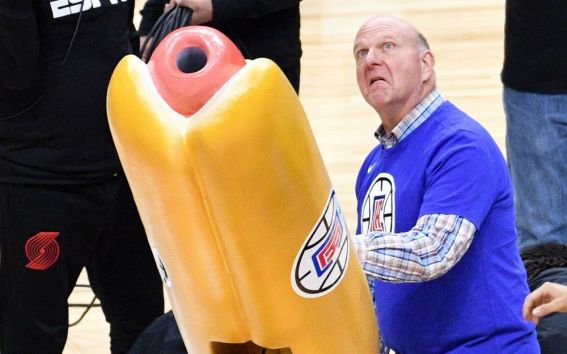 The owner of the National Basketball Association's (NBA) Los Angeles Clippers, Steve Ballmer, has reaffirmed the franchise's ambition to leave their current Staples Center home and build a new arena in Inglewood.
The Clippers have shared the Downtown LA venue with their rival Los Angeles Lakers and the National Hockey League's (NHL) LA Kings since 1999. The Clippers' 25-year venue lease is set to expire in 2024.
The planned 18,000-seater arena would be built close to the new stadium currently under construction for Los Angeles' two National Football League (NFL) teams, the Rams and Chargers.
Ex-Microsoft chief executive Ballmer believes exclusive control of the Clippers' own arena would maximise the organisation's commercial potential.
"We're moving to Inglewood come hell or high water," he told a meeting of Clippers fans and season ticket holders. "So we're working on a plan to get our own house. We want to get our own house. It turns out the way this works in LA, which is much beloved to me, that if you start now you might be done in six years."
Ballmer urged fans to contact their California Assembly representative and state senator to urge approval of legislation that would speed up the process to allow the team to build their own arena.
The Milwaukee Bucks have proven the commercial value of an NBA franchise moving into their own venue. The team's sponsorship revenues have doubled in the two years since they started work on the Fiserv Forum, with the new building generating 35 per cent more ticketing revenue than the Bucks' former Bradley Center home.