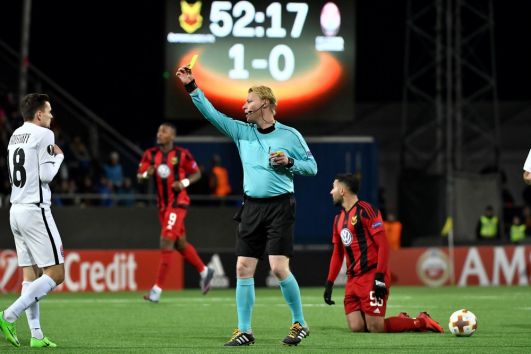 The Royal Dutch Football Association (KNVB), the governing body for soccer in the Netherlands, has extended its partnership with Arag for a further two years.
The insurance company will remain an official partner of the KNVB until July 2020, prolonging a partnership that dates back to 2011. The financial terms of the agreement have not been disclosed.
As part of the deal, Arag's logo will continue to feature on the shirt sleeves of all KNVB referees and officials. Additionally, Arag will support the KNVB in its ongoing 'FairPlay' initiative.
Jean-Paul Decossaux, commercial director of the KNVB, said: "It is great that we can support each other over the next three years. The Dutch referees have been wearing the brand for seven years now and this is something that both we and Arag are very proud of."
Marc van Erven, chief executive of Arag Netherlands, added: "Together we have taken the fair play domain as a central theme in paid, but also in amateur football. I am proud to give referees the respect and appreciation they deserve through our long-term cooperation."