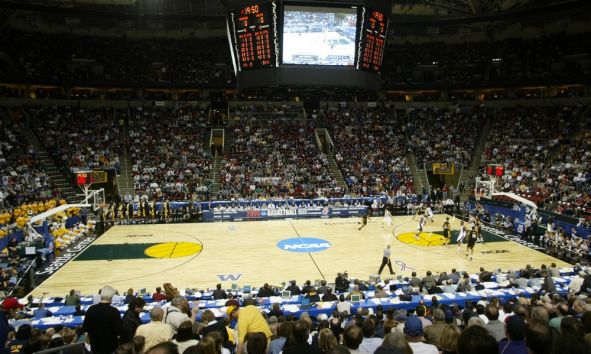 The cost of renovating the KeyArena in Seattle is set to cost US$100 million more than initially expected as project leaders look to ensure that the venue is ready to host an expected National Hockey League (NHL) expansion franchise and possibly a future National Basketball Association (NBA) team.
The news comes as Oak View Group (OVG), the company financing the redevelopment, announced that it had selected Skanska and Aecom Hunt to partner together as the general contractor for what is now a US$700 million project.
The renovation was originally expected to cost US$600 million, but OVG chief executive Tim Leiweke said that figure has soared for a number of reasons, including installing permanent locker rooms for the expected NHL team, a potential NBA franchise and the Women's National Basketball Association's (WNBA) Seattle Storm, the current occupants of the venue.
Leiweke also said an additional 50,000 square feet had been put in for storage, and that a premium club space was being added at the top of the building, which will have a capacity of 17,400 for ice hockey and 18,600 for basketball.
"That building you see today is not the building we designed a year ago," said Leiweke. "We wanted the NBA and the NHL to be able to come into this building and do a couple of things ... we wanted capacity that would ultimately make sure we meet standards the NBA and NHL expect us to hit, but we wanted amenities that allowed the NHL and NBA to be top third within both of the leagues as to the revenue they could generate to make the building work for both the NHL and NBA."
Seattle's hopes of landing a National Hockey League (NHL) expansion franchise were given a major boost in December after the league authorised an ownership group in the city to file an application. That announcement came shortly after Seattle city authorities approved the proposed US$600 million renovation of KeyArena, which is being privately financed by OVG.
Despite the added costs, the renovation project is still on course for construction to begin later this year, with an ambitious completion target set for 2020 to fall in line with the start of that year's NHL season. KeyArena will host a pre-season NBA game between the Golden State Warriors and Sacramento Kings on 5th October before being turned over to OVG.
The building timeline is subject to final approvals by the city of Seattle, and will also need to align with league approval for an expansion NHL franchise to go ahead.