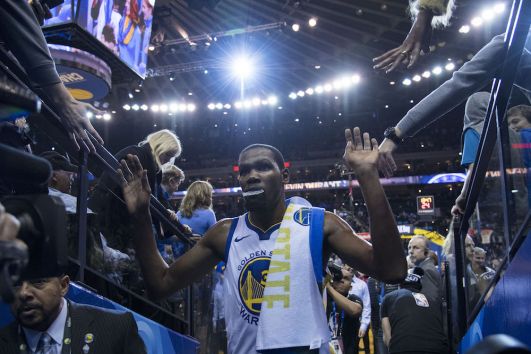 Thirty Five Media, the media production and creative development startup co-founded by basketball star Kevin Durant, has entered into a content collaboration agreement with YouTube.
The aim of the partnership is to create more athlete-driven video content for the Google-owned platform, and to help other sports stars launch their own YouTube channels.
With well over 500,000 subscribers, Durant's official YouTube channel shows exclusive behind-the-scenes content and question-and-answer sessions, and has already garnered more than 21 million views since it launched last April.
"I've had an incredible experience on YouTube engaging with fans all around the world and sharing different parts of my life," Durant, 29, said in a statement.
"It was natural for me to want to show other athletes what they can achieve on YouTube and to ensure my Thirty Five Media team and I can be a resource for those athletes."
Durant co-founded Thirty Five Media along with his manager and business partner Rich Kleiman, who added: "We started Thirty Five Media after seeing the potential for Kevin to connect with his fans on YouTube. Once we started seeing traction, a strategic partnership like this was the obvious next step for us.
"The possibilities here go far beyond traditional social media interaction and there's a huge opportunity for branded content and better one-to-one fan engagement for athletes on YouTube."
While financial terms and the duration of the company's YouTube deal have not been disclosed, it is understood that the two parties will collaborate on creating sports programming and original series, including one with actor Michael Rapaport, that will be shown via Durant's YouTube channel.
According to reports, Thirty Five Media is in the process of helping NBA star Karl-Anthony Towns launch his own dedicated channel, as well as Durant's Golden State Warriors teammates JaVale McGee and Nick Young. The company previously assisted Seattle Seahawks cornerback Richard Sherman in setting up his own channel last year.
News of the agreement comes as other digital players begin to use sport and high-profile athletes as a means of attracting more users to their platforms. Facebook, for example, has created a reality series with retired basketball player LaVar Ball and his family, while YouTube itself has already forged content partnerships with several major leagues and properties.