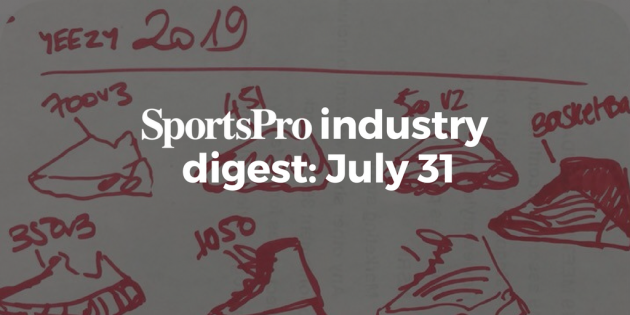 Top story
American hip-hop star Kanye West has plans for a "Yeezy Basketball Shoe" to add to his already popular Adidas shoe line.
Announced on Twitter alongside a rough sketch of the shoe, the move marks a first move for the brand away from its lifestyle footwear.
According to multiple reports, the shoe is set to be released in 2019, with an estimated retail price of more than US$225.
While the famous Yeezy shoe line has not previously been extended to sports, Golden State Warriors' guard, Nick Young, has occasionally sported the lifestyle version of the shoe in game. Young, like West, is an Adidas client.
The German sportswear giant has signed Kanye West as a partner in 2014, a deal originally worth US$10 million, which is still the largest largest deal in history between a sports brand and a non-athlete.
Sponsorship
Italian sportswear brand Fila has extended its partnership with ATP Masters 1000 event, the Western & Southern Open, in Cincinnati Ohio.
Premier League soccer side Wolves have partnered with local company Wolverhampton Building Supplies for the upcoming 2018/19 campaign.
The International Boxing Association (AIBA) has named sports equipment maker Greenhill as the official supplier of the 2018 Youth World Championships, in Budapest, Hungary.
Cricket's 2018 Hero Caribbean Premier League (CPL) will feature Dixee as the tournament's official biscuit sponsor.
German insurance group Generali will sponsor the upcoming Berlin edition of the 2018 European Athletics Championships.
England's Warwickshire County Cricket Club has partnered with airline Air India for England's first match of the Specsavers Test Series against India.
German Bundesliga soccer side Schalke 04 have extended their partnership until 2023 with German insurance company R+V Versicherung.
Scottish soccer giant Rangers have confirmed a partnership for the upcoming 2018/19 season with insurance firm Lifetime Protection Services Ltd.
In England, Championship club Norwich City have renewed their deal with Visit Tampa Bay as their official destination partner.
Recently relegated German outfit Hamburger SV has renewed their partnership with domestic supermarket chain REWE until 2020.
Also in the German second-tier, VfL Bochum has announced its partnership with German-based technology company G Data Software for the 2018/19 season.
Further down, FC Kaiserslautern have renewed with Singapore-based physiotherapy company RehaMed as the club's injury rehabilitation partner.
In France, Ligue 2's FC Sochaux have named Nedey, French car manufacturer, as their jersey and main sponsor.
The French Basketball Federation (FFBB) has signed a new partnership deal with American sports equipment company Wilson.
Cricket's 2018 Hero Caribbean Premier League (CPL) will feature Dixee as the Twenty20 tournament's official biscuit sponsor and El Dorado Rum as an official beverage after signing new deals with the brands.
Italian soccer giant Inter Milan and Chinese owners Suning Sports Group, have launched a new academy based in Hong Kong in partnership with Man Lap International Sports Group.
The Ultimate Fighting Championship (UFC) has named American menswear provider Van Heusen as its official men's dress furnishings provider.
SmartSeries
London-based soccer news company 90min has teamed up with Chinese digital sports media platform Sina Sport with hopes of expanding international soccer to a Chinese market.
Investment
American investment fund GACP have entered into exclusive negotiations to buy top-tier French soccer club Bordeaux from French owners Metropole Television (M6).
University of Phoenix Stadium, home to the National Football League's (NFL) Arizona Cardinals, will undergo upgrades costing nearly US$100 million and including renovations to the in-stadium luxury club areas, and a "fan fun" area, paid for by the Cardinals, the city of Glendale, and the Arizona Sports and Tourism Authority.
Agencies
New UK-based SMS Sports Consulting Group (SMS SCG) has announced a major golf project with the Ladies European Tour (LET) to develop the women's game and its commercial options.
Bidding & Hosting
The Chinese city of Zhuhai will become a host port and team partner for the 2019/20 Clipper Round the World Yacht Race.
The 2018 edition of the Under 23 Baseball World Cup will take place in Barranquilla, Colombia, from 19th to 28th October.
Wine of the Day
Former England cricketer Ian Botham has joined a growing number of celebrities to launch a wine range, in a link up with Benchmark Drinks.
Perhaps surprisingly given his sporting rivalry with the country, both ranges being launched in the UK this Autumn, will comprise regional Australian wines. Botham's last entry into the wine industry was an English sparkling effort.
"I hate the term 'celebrity wine'," he told the Drinks Business. "Everything I like in wine is in these bottles."
Our industry digest will update throughout the day as deals break so check back to make sure you do not miss a story