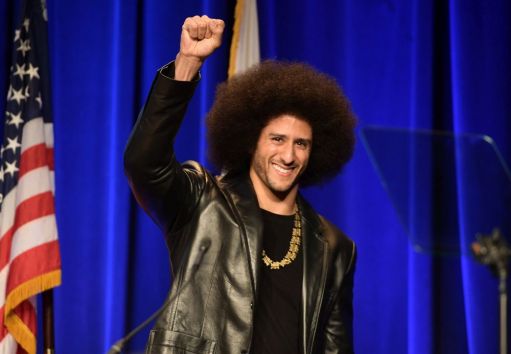 Colin Kaepernick's collusion claim against the National Football League (NFL) will continue after system arbitrator Stephen B Burbank denied the league's request to dismiss the case.
Kaepernick filed the grievance in October last year, claiming owners have colluded to keep him out of the league after he knelt during the US national anthem to highlight racial injustice in the country. Under the league's collective bargaining agreement (CBA) teams and the NFL are forbidden from coming together to deprive a player of employment.
Kaepernick's attorney, Mark Geragos, posted a statement from Burbank on Twitter on Thursday, reading in full: 'On 28th August 2018, the system arbitrator denied the NFL's request that he dismiss Colin Kaepernick's complaint alleging that his inability to secure a player contract since becoming a free agent in March 2017 has been due to an agreement among team owners and the NFL that violates Article 17, Section 1 of the collective bargaining agreement between the NFL and the NFLPA.'
The arbitrator found sufficient evidence for the case to continue and perhaps go to trial.
The NFL declined to comment on the decision when approached by US media on Thursday.
Kaepernick, who led the 49ers to the Super Bowl in 2013, left San Francisco at the end of the 2016 season and has not been picked up by a team since, despite several notably inferior players gaining employment in the NFL.
Pro Football Talk reports that further discovery is now expected, giving Kaepernick and Geragos more opportunities to gather information supporting their position. Eventually, the case could lead to a hearing in which owners would be required to testify. A number of owners, executives, coaches and other figures have been deposed as part of the grievance.
Former San Francisco 49ers safety Eric Reid, one of the first players to join Kaepernick in 2016 by kneeling during the national anthem in protest, filed his own collusion case against the NFL in May. Reid is also represented by Geragos, although Burbank's ruling applies only to Kaepernick's claim, not Reid's.
In March, Reid said he had no doubt his protest had prevented him from finding a job. "The notion that I can be a great signing for your team for cheap, not because of my skill set but because I've protested systemic oppression, is ludicrous. If you think [it] is, then your mindset is part of the problem too," Reid wrote on Twitter.
The new NFL season starts next Thursday when the reigning Super Bowl champions, the Philadelphia Eagles, play the Atlanta Falcons.