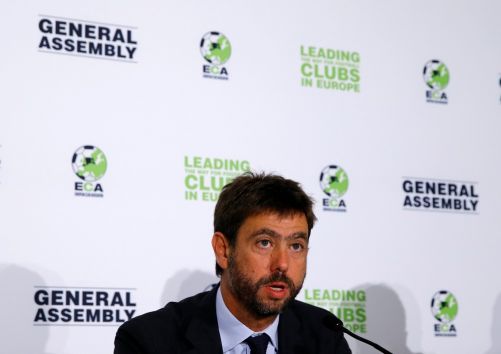 The Italian Football Federation (FIGC), the governing body for soccer in Italy, has banned Juventus president Andrea Agnelli for one year for his role in selling match tickets to mafia-linked supporters groups.
The 41-year-old, who has been at the helm of the Serie A champions since 2010, was also fined €20,000 (US$23,600), while the club have been ordered to pay €300,000 (US$355,000) and three other club officials have been banned.
At an FIGC hearing on Monday, prosecutor Giuseppe Pecoraro charged Agnelli with helping to sell tickets – later resold for a huge profit – to fan groups with alleged links to organised crime, and had advised the FIGC to implement a stricter punishment, requesting a 30-month suspension, a €50,000 (US$59,000) fine and an order for Juventus to play two games behind closed doors.
"I'm partly satisfied because we've been able to prove the guilt of everyone involved, but the findings were so serious that, in my opinion, they should have been punished more, so we'll appeal," Pecoraro told international news agency AFP. "I think going to another court will be useful, bearing in mind they went to organised crime, and that is very serious."
Agnelli, a member of the family that owns Fiat Chrysler, was accused of dealing with Rocco Dominello, a supporter thought to have close ties to the N'drangheta mafia group. Despite meeting with Dominello several times in prison, Agnelli claimed not to have known about his background.
The court ruled that Agnelli was totally unaware of any illegality but proceeded to find him guilty of illicit behaviour for helping one of the ultras supporters groups obtain tickets and sell them on for a profit, with the funds raised supporting the illegal mafia group.
Agnelli, who was recently appointed president of the European Club Association (ECA), a Uefa-recognised independent body that represents and safeguards the interests of soccer clubs in Europe, plans to appeal the decision. Juventus also announced shortly after the sentencing that they will appeal the charges brought against them. The club had also said ahead of the hearing that they would not request Agnelli to step down if he was found guilty.
A statement from Juventus read: 'Following today's verdict from the FIGC's National Tribunal, Juventus Football Club announces that it will lodge an appeal to the FIGC Court of Appeal in the firm belief that the club is in the right, a fact which is yet to be properly acknowledged.'