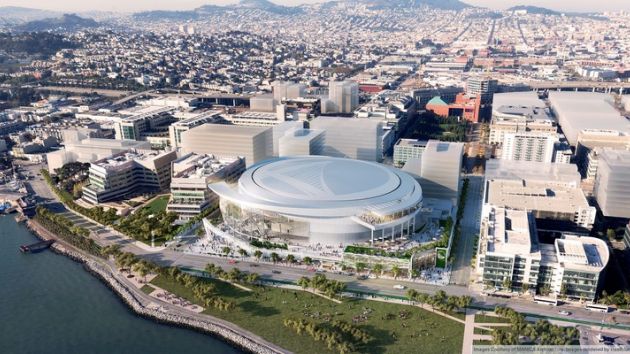 Reigning National Basketball Association (NBA) champions the Golden State Warriors have struck a naming rights agreement for their under-construction arena with multinational bank and financial services company JPMorgan Chase.
The new San Francisco venue, to be known as the Chase Center, doesn't open for another three years, but the bank is hoping to capitalise on the current dominance of the team, who recently came off a 40-game winning streak.
Furthermore, the arena is being financed privately by the Warriors, without public subsidy, giving them greater incentive to find a partner to help fund the construction and opening of the new venue.
Though financial details were not announced, it is thought that the deal exceeds the US$200 million paid by Barclays for the naming rights to the Brooklyn Nets' arena, the current most expensive agreement of its kind in basketball.
The naming rights had been expected to go to a Silicon Valley-based company given the Warriors' proximity to the area. A spokesperson for JPMorgan Chase suggested that the move was an attempt on the company's behalf to gain a stronger foothold in the USA's digital capital.
Photo: Image rendered By Steelblue. Courtesy Of MANICA Architecture.