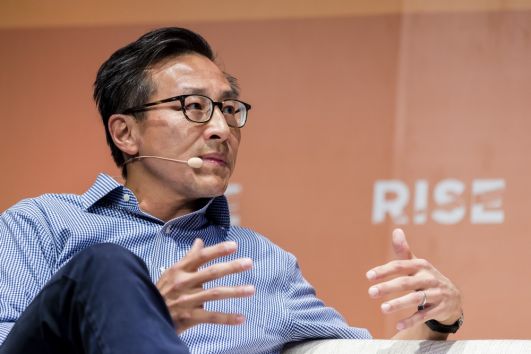 Russian billionaire Mikhail Prokhorov, the owner of the Brooklyn Nets, has sold a 49 per cent minority stake in the National Basketball Association (NBA) team to Joseph Tsai, the executive vice chairman and co-founder of Chinese ecommerce giant Alibaba.
Prokhorov will continue to be the team's controlling owner through Onexim Sports and Entertainment Holding, and the sale will not affect the franchise's day-to-day management or basketball operations, an NBA statement confirmed.
The deal, the terms of which have not been disclosed, gives Tsai the option to acquire additional shares in 2021, which would make him the controlling owner.
The Nets' home arena, the Barclays Center, is not part of the deal and will continue to be wholly owned by Onexim Sports and Entertainment.
Reuters reported in October that Tsai's deal to purchase the 49 per cent stake valued the team at around US$2.3 billion.
The sale comes after Washington announced new sanctions against a selection of Russian businessmen, companies and government officials in response to perceived 'malign activities' carried out by the Kremlin around the world.
According to financial documents obtained by ESPN, the Nets have suffered significant losses since moving to Brooklyn from New Jersey. They reportedly lost US$144 million on basketball-related activities in 2013/14, the largest figure in the NBA that year by more than US$100 million, before leaking a further US$23.5 million last season.
Tsai said: "As a lifelong sports fan, I am very proud to join the Nets ownership and the NBA family. I lived in New York in the early days of my career, and the city holds a special place in my heart. I share the vision and culture that Mikhail Prokhorov, chief executive Brett Yormark, general manager Sean Marks and head coach Kenny Atkinson have put in place, and I look forward to being a part of this great franchise.
The Brooklyn Nets finished 12th in the NBA's Eastern Conference. They lost 110-97 away against the Boston Celtics on Thursday.