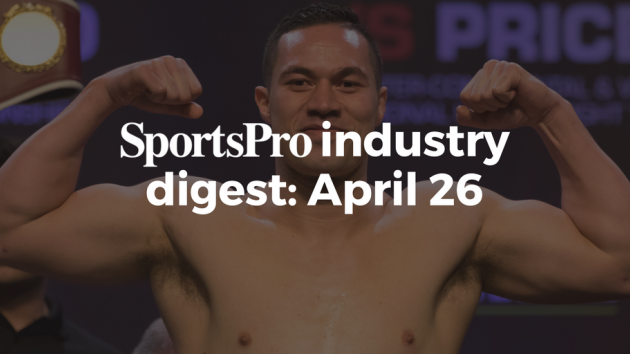 Boxing: Joseph Parker has extended his agreement with Digicel Samoa to continue as a brand ambassador.
The New Zealand based former WBO world heavyweight champion first stepped into the ring with Digicel in 2016 and has now renewed his deal for another 12 months.
Digicel Samoa chief customer officer, Deepak Khanna, said: "We see the benefit of being associated with him. It is more than about the money, but his association with the people of Samoa.
"Despite the outcome of the fight, he is still very much loved by the nation. We feel proud to be associated with him.
"Digicel is in 31 countries in the globe. I could put Usain Bolt on our billboards but nobody would really associate with him.
"It is the association that we are trying to create."
Cricket: West Indian batsman Chris Gayle has invested in Bengaluru-based augmented reality venture FlippAR.
Golf: The French Golf Federation (FFGOLF) has announced Essilor France as its official optical partner until 2020.
Motorsport: The Autodromo Internazionale Imola racetrack in Italy will continue to host a round of the Superbike World Championship (WorldSBK) series until 2020 after signing a new hosting-rights contract.
Snooker: UK public-service broadcaster the BBC has extended its deal with IMG through a new four-year contract which is set to see the agency continue to produce live coverage of the three major UK snooker tournaments until 2021.
Winter sports: Polish sportswear manufacturer 4F has been unveiled as the new presenting sponsor of the Four Hills Tournament, the ski jumping showpiece otherwise known as the Vierschanzentournee.
Raffle of the day
Kappa's latest social media promotion in conjunction with Argentinian top-tier technical partner Racing Club has riled fans of the club's Copa de Libertadores opponents Vasco.
The Italian brand promised to raffle a Racing shirt for every goal the club scored against Vasco in their group stage match on Thursday. The first meeting between the two sides last week in Brazil saw Racing win 4-0 and miss two penalties.
Our industry digest will update throughout the day as deals break so check back to make sure you do not miss a story