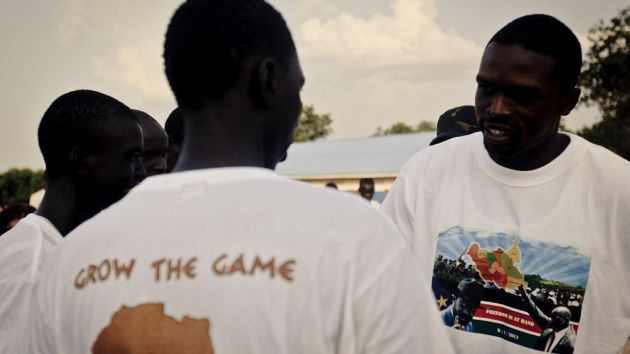 The National Basketball Association (NBA) has announced that Johannesburg, South Africa, will stage its third Africa Game, an exhibition basketball game played between representative teams from Africa and the rest of the world.
The game, which will take place on 4th August, will follow the 16th edition of Basketball without Borders Africa, the NBA and International Basketball Federation's (Fiba) global elite basketball development programme.
The NBA became the first major US professional sports league to host games on the African continent when the inaugural Africa Game was held in August 2015 at Ellis Park Arena in Johannesburg. The city also hosted the second game last year the Ticketpro Dome.
"Hosting the third NBA Africa Game in Johannesburg gives us the chance to celebrate Africa and to celebrate the energy these role models bring for our youth," said Gallo Fall, vice president and managing director of NBA Africa.
"It's not just about the game being played on the court. We have a whole week where we engage with the community, where we host an innovation summit, where we bring some of the brightest minds across different sectors, in technology, music, fashion and science to come and share their vision with our young people.
"Basketball is used only as a catalyst. We are saying to Africa's young people that the dreams they are chasing, if we can create an enabling environment, they can make it happen."
Meanwhile, NBA commissioner Adam Silver has said the league hopes to hold a pre-season game in India in a bid to grow its market there.
The NBA last year opened its NBA Academy India at the Jaypee Greens Integrated Sports Complex in Greater Noida.
The Indian news agency PTI reports that Silver said: "We have an excellent relationship with the Reliance Foundation and with other corporate partners in India. We have an office in Mumbai, and one of the things we're looking at, which we hope to do relatively soon, is bring a pre-season game to India.
"There is an enormous amount of basketball being played, even in India. It's such a large country, obviously, over a billion people, that there is a significant amount of basketball being played. A little is dependent on the arena infrastructure, but we've heard some good news from the market in terms of Delhi and Mumbai about plans for new arenas."