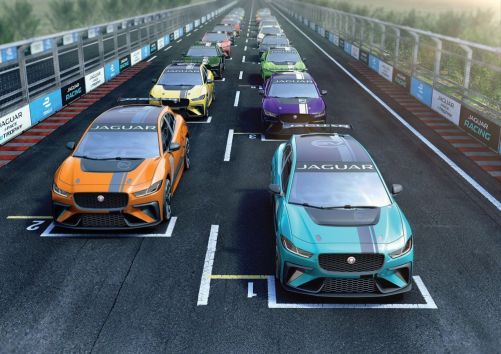 Jaguar will launch the world's first production-based all-electric support series of races to accompany the Formula E championship from late 2018.
The competition will run alongside the fifth season of Formula E throughout 2018/19, and will feature cars based on the British manufacturer's I-Pace performance SUV.
The Jaguar I-Pace eTrophy will be Formula E's first dedicated support category. Details of the technical specification, calendar and price are yet to be released, but Jaguar has announced that it will be a ten-round series, suggesting that it will take place on Formula E circuits at all race weekends.
The competition will be capped at 20 drivers, including a VIP entry at each event, while the format will comprise a practice and qualifying session followed by a 30-minute race. The cars will be run by Jaguar Racing, the company which operates the Jaguar Formula E team. The series is expected to serve as a ladder for young drivers into the world's elite all-electric vehicle championship.
Gerd Mauser, chief marketing officer of Jaguar Land Rover and the chairman of Jaguar Racing, said: "As a British team, we are proud to announce today the launch of the world's first production battery electric vehicle championship. We've always said we want to prove our electrification technologies on the track - this is the proof.
"I am looking forward to seeing a full grid of Jaguar I-Pace race cars in late 2018, soon after the first Jaguar I-Pace hits the road in Europe. Ultimately this innovative series will enhance the technology in our future electric vehicles and benefit our customers. We expect our series to be a sell-out and an exciting international sporting event."