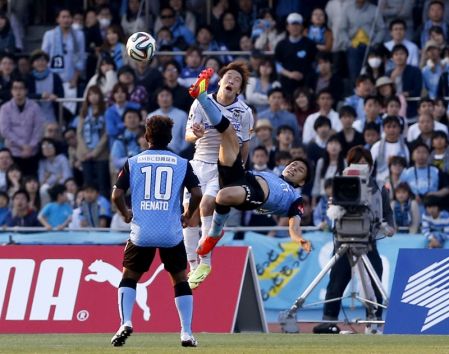 The J.League, the organising body for Japan's top three soccer divisions, has signed a historic broadcast deal with UK-based Perform Group.
The deal will see the J.League move away from traditional TV broadcasts, making all of its output available on a new streaming service, known as DAZN, to be launched by Perform later this year.
The agreement begins in 2017 runs until the end of 2026, covering ten seasons of Japanese soccer. It is worth a sum of ¥210 billion (US$2 billion), a significant improvement over the league's previous deal with Sky Perfect, which was contributing ¥5 billion (US$47 million) annually. The J.League has said that the deal is the largest in Japanese sports history.
The increased broadcast revenue will go toward developing the league's marketing strategy to increase its presence throughout Asia and the world, and improving the quality of stadiums in the country.
Every game from the three divisions under the J.League's control - J1, J2 and J3 - will be streamed live via DAZN, and made available for repeated streaming after the live broadcast.
"The deal with Perform Group is the first long-term broadcasting rights deal in the history of Japanese sports," J.League chairman Mitsuru Murai said.
"We think this underlines our belief that the Japanese sporting industry is a viable content attractive to foreign investment. We also believe this agreement is the first of its kind with a service provider in the rapidly changing world of the internet and mobile phones.
"This allows for a new way to view sports. People will be able to watch whenever and wherever, for however many times they like."