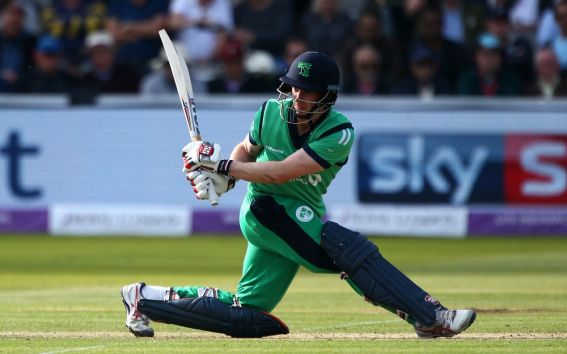 Pay-TV broadcaster Sky Sports has secured exclusive rights in the UK and Ireland to the Irish national cricket team's first ever Test match.
Ireland's inaugural five-day game will see them take on Pakistan from 11th to 15th June after they were awarded full-member status, alongside Afghanistan, by the International Cricket Council (ICC) last year, expanding the number of Test-playing nations from ten to 12.
Sky Sports has also acquired rights to Ireland's two-game Twenty20 International (T20I) series against India, which follows the Pakistan Test match at the end of June.
The news was revealed by Cricket Ireland chief executive Warren Deutrom, who confirmed details of the largest broadcast rights package in Irish cricket history, which incorporates coverage on networks in countries including the US and Australia.
"This broadcast package is set to break Irish sporting records, as we anticipate that the T20I series against India alone will be the biggest worldwide TV audience of any event - sporting or otherwise - ever staged in Ireland," said Deutrom. "Since being confirmed as a full member of the ICC in June 2017, we have seen unprecedented interest in Irish cricket - most notably from a range of potential broadcast partners.
"It's been an amazing trajectory over the last ten years. From playing in front of a few hundred a few short years ago, to playing last year at Lord's Cricket Ground in front of 25,000 - and now we are set to take that next step. To know so many people around the world are interested in our team should be a moment of pride for everyone connected with Irish cricket."
Meanwhile, Irish public service broadcaster RTÉ has confirmed that it will show highlights of both the Test match against Pakistan and the T20I series with India. The coverage will be available on RTÉ2 and the RTÉ Player.
Ryle Nugent, group head of RTÉ Sport, said: "Cricket Ireland's long journey to Test status reaches a fitting conclusion with a first-ever Test match at home against Pakistan and it is appropriate that the national broadcaster should be there to bring highlights of this historic occasion to Irish viewers free-to-air.
"RTÉ Sport will also have highlights of both of Ireland's home T20 Internationals versus India. It's a fantastic start to the new chapter in Irish cricket and RTÉ Sport are delighted to bring these games to the Irish audience."