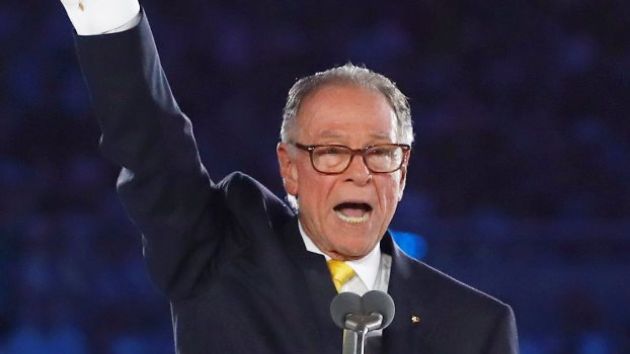 The International Olympic Committee (IOC) has provisionally suspended the Brazilian Olympic Committee (COB) and its embattled president, Carlos Nuzman (pictured), amid an ongoing investigation into a vote-buying scheme tied to last year's Olympic Games in Rio de Janeiro.
The action taken by the IOC's ruling Executive Board (EB) means that subsidies and payments from the committee to the COB are being withheld, while the COB will not be able to exercise its membership rights in Olympic-related matters.
The suspension of Nuzman, an IOC honorary member who also continues to serve as president of the Rio 2016 organising committee, follows his arrest in Rio on Thursday. Last month, Brazilian federal police raided the 75-year-old former lawyer's home as part of a corruption investigation codenamed Operation Unfair Play.
Nuzman, who denies all wrongdoing, is alleged to have acted as a facilitator for a US$2 million payment to Papa Massata Diack, the son of IOC member and former athletics chief Lamine Diack, in exchange for votes during the bidding process for the 2016 Olympic Games.
It is alleged that Nuzman was the main link between Brazilian businessman Arthur Cesar de Menezes Soares Filho and the elder Diack, who was a voting member of the IOC at the time Rio was awarded its Games. De Menezes had allegedly sought to secure Diack's support, as well as votes from other African IOC members.
When Nuzman's home was raided early last month, Brazilian authorities reportedly seized a cache including, among other assets, around US$155,000 in five different currencies and a Russian passport. Nuzman has since filed tax returns in which he declared ownership of the cash as well as 16 one-kilogram gold bars deposited in Switzerland.
Brazilian authorities allege this filing was done to "give the appearance of transparency and lawfulness to assets that were hidden".
Leonardo Gryner, the COB's director general and another senior figure in the Rio 2016 organising committee, was also arrested as part of the inquiry, which is being conducted in conjunction with French and US authorities. Like Nuzman, Gryner has been indicted on charges of corruption, money laundering and criminal organisation but denies all wrongdoing.
As well as having his honorary IOC membership provisionally suspended, Nuzman has also be removed from the coordination commission for the Tokyo 2020 Games, a role he was appointed to by IOC president Thomas Bach.
In a statement issued on Friday, the IOC said the suspensions will not affect Brazilian athletes, who will still be able to compete in international competitions, including next February's PyeongChang 2018 Winter Games, and will also continue to receive Olympic scholarships.
The COB's suspension does, however, prohibit members of the organisation from attending upcoming national Olympic committee gatherings, such as next month's Association of National Olympic Committees and Pan American Sports Organization general assemblies in Prague, reports Inside the Games.
In its statement, the IOC also said it had 'provisionally suspended' all relations with the debt-stricken Rio 2016 organisers, and noted that it closed all of its contractual obligations at the end of last year. The IOC also said it had provided organisers with additional financing in light of Brazil's deep economic recession.
The IOC added that the COB's provisional suspension 'may be lifted partly or fully' when its governance issues 'have been addressed to the satisfaction of the EB.'
Rio's Olympic Games, the first to be staged in South America, have been marred by controversy since they concluded last September, with the event having been caught up in a sprawling corruption investigation - known as Operation Car Wash - that has ensnared dozens of high-ranking politicans and prominent businesspeople.
In June, former Rio State governor Sergio Cabral was jailed for 14 years for his part in illicitly awarding millions of dollars worth of construction contracts for Games venues. Former Rio mayor Eduardo Paes is also being investigated for allegedly accepting at least US$5 million in payments to facilitate construction projects tied to the Games.