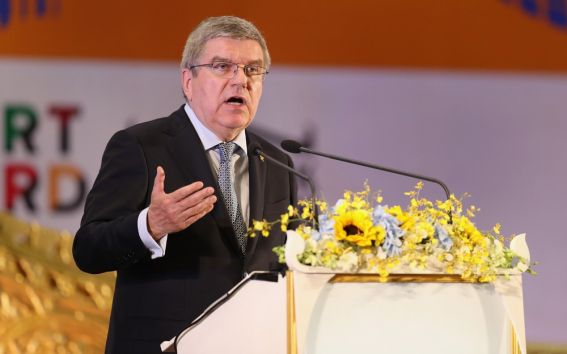 The International Olympic Committee (IOC) and the Global Association of International Sports Federations (GAISF) have announced the formation of an Esports Liaison Group (ELG) as discussions continue over the potential inclusion of competitive gaming at the Olympic Games.
The new organisation was unveiled over the weekend during the inaugural Esports Forum at the Olympic Museum in Lausanne, Switzerland. 150 representatives from across the esports and gaming industry including Riot Games, Epic Games, Blizzard and the ESL were in attendance at the event, which was also attended by National Olympic Committees (NOCs), International Sports Federations (IF), athletes, official partners and broadcasters.
The aim of the forum was to discuss areas of commonality and potential collaboration, including the question of whether esports could be recognised as a sport and therefore represented within the Olympic Movement even though an organisation does not currently exist that represents competitive gaming globally.
The ELG will now continue communication and engagement between the Olympic Movement, esports and gaming stakeholders to identify opportunities to collaborate in the future.
Members of the ELG will be invited to present at the Olympism in Action Forum in Buenos Aires on 5th and 6th October, while esports will also be discussed with the IFs at the GAISF Forum on 5th to 7th November in Lausanne, as well as with all 206 NOCs at their general assembly from 28th to 29th November in Tokyo.
In the wake of the developments at the Esports Forum, GAISF president Patrick Baumann said: "One thing in particular was clear from these fascinating discussions - we are united by passion for our sports and a shared love of competition. That's a positive starting point for further discussions about possible future cooperation between the Olympic and esports communities."
The IOC has maintained that any esports collaboration would have to align with the Olympic values, rules and regulations, meaning any potential inclusion of esports at the Games would not involve titles that encourage violence or discriminatory elements.
Commenting on the discussions at Saturday's forum, IOC sports director Kit McConnell added: "There was a consensus that future collaboration will be based on ensuring that any activity supports and promotes the Olympic values; and while the goal was not to develop a pathway towards the inclusion of esports on the Olympic programme, we have a strong plan for ongoing dialogue and engagement, and are in a strong position to coordinate and support the wider engagement of the Olympic Movement with esports."
Esports is set to debut at a major multi-sport event for the first time at this year's Asian Games in Jakarta and Palembang, Indonesia, with featured game titles including League of Legends, Hearthstone, Starcraft II, Arena of Valor, Clash Royale and Pro Evolution Soccer.