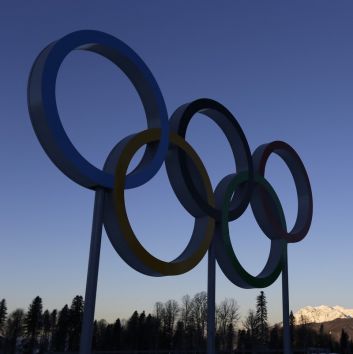 The International Olympic Committee (IOC) has insisted it is 'fully committed to protecting the integrity of sport' amid several international investigations into corruption at the highest levels of sports governance.
In a statement issued as executive board meetings got underway in Lima ahead of this week's IOC Session in the Peruvian capital, the committee said 'a new good governance system' is being introduced as part of its Olympic Agenda 2020 programme of reforms, and that 'infringements from the past will also be addressed'.
Though it provides few details, the statement describes the new system as 'strong and comprehensive', specifically 'with regard to the election of host cities for the Olympic Games', and adds that the IOC has taken steps to significantly strengthen its prevention and sanctioning protocols.
Monday's statement comes as authorities in Brazil and France investigate alleged vote-buying during the process for awarding the 2016 Olympic Games. Last Tuesday, police in Brazil raided the home of Rio 2016 organising committee president Carlos Nuzman, an honorary IOC member, as part of the ongoing corruption probe, dubbed 'Operation Unfair Play'.
The IOC says it has instructed its Brazilian lawyers to 'make contact with' and 'ask for information' from judicial authorities in the country. Rio de Janeiro won the right to host the 2016 Olympics during a vote in 2009, but several sporting, political and business figures involved in the Games have since been arrested or implicated for corruption tied to the event.
Nuzman, 75, has been an IOC member for 12 years and was one of the most prominent figures in securing Rio's Games. He is expected to appear before a court in Rio this week.
While Nuzman was not mentioned by name in the IOC's most recent statement, the committee said its ethics commission is 'following up on' the Brazilian inquiry. 'Where evidence is provided, we will act,' it added.
The IOC's statement also makes reference to Lamine Diack, the disgraced former president of the IAAF, athletics' global governing body, and his son Papa Massata Diack. Both men are alleged to have blackmailed athletes, covered up positive doping tests and operated a cash-for-votes racket that saw payments made to voting officials in return for the right to host some of sport's biggest events, including last summer's Olympic Games.
Last year, the IOC put itself forward as a 'partie civile' to that French-led investigation, having previously stripped Lamine Diack of his honorary IOC membership when allegations of the Senegalese's alleged wrongdoing first came to light in November 2015.
This week's IOC Session in Lima is set to see the next two editions of the Summer Olympic Games awarded, although not by way of the usual voting process. As has been widely reported, the IOC has struck an unprecedented 'tripartite agreement' with Paris and Los Angeles that will see the two cities awarded the 2024 and 2028 Games respectively.
In related news, as many as six senior IOC members are expected to be absent from the upcoming Session, including Sheikh Ahmad Al-Fahad Al-Sabah, the Olympic Council of Asia (OCA) president who will instead travel to Turkmenistan to oversee final preparations for that country's Asian Indoor and Martial Arts Games (AIMAG), which begin on Sunday.
An OCA statement said the Kuwaiti, a high-level powerbroker in sports politics, has "reluctantly decided" to miss the Session due to a clash with his commitments in Ashgabat, although there are suggestions his decision has been made due to an ongoing US-led investigation linking him to a bribery scandal involving officials at Fifa, world soccer's governing body.
Sheikh Ahmad resigned from his role on Fifa's ruling Council in April, a day after he was identified as a co-conspirator in a case involving Richard Lai, the banned Fifa Audit and Compliance Committee member. He has denied any wrongdoing.