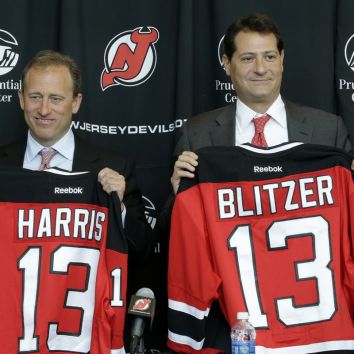 American sports investors Josh Harris and David Blitzer have announced the creation of Harris Blitzer Sports & Entertainment (HBSE), a new holding company that will oversee the pair's various franchise and venue assets.
Upon launch, HBSE's portfolio will include the Philadelphia 76ers of the National Basketball Association (NBA); the New Jersey Devils of the National Hockey League (NHL); the Prudential Center in Newark, New Jersey, where the Devils play; the Delaware 87ers and Binghamton Devils; and the esports franchise Team Dignitas.
Other assets now under the HBSE umbrella include the Sixers Innovation Lab Crafted by Kimball and the Grammy Museum Experience at the Prudential Center.
The new entity will be led by Scott O'Neil, the current chief executive of the 76ers, Devils and Prudential Center, who becomes chief executive of HBSE. Hugh Weber, currently president of the Devils and the arena, will serve as president of HBSE while Brad Shron has been given the role of general counsel.
It is understood that HBSE will be used as a vehicle for Harris and Blitzer, who also own the Premier League club Crystal Palace, to streamline operations across each of their assets whilst exploring new investments in sports and entertainment.
"As we continue to expand our scope in the world of professional sports and entertainment, we're excited to launch Harris Blitzer Sports & Entertainment," Harris said in a statement. "We believe this endeavour allows us to continue to grow strategically and innovatively."
The formation of HBSE has resulted in an executive reshuffle, including a number of promotions, within the company's properties. Chris Heck becomes president of the 76ers while Lara Price has been named the team's chief operating officer. Adam Davis, currently the chief revenue officer of the Prudential Center and the Devils, will expand his role to run the partnership business for all HBSE properties.
Meanwhile Jake Reynolds will replace Davis as chief revenue officer of the 76ers, and Katie O'Reilly assumes the role of chief marketing officer.
"We take pride in hiring the best and brightest talent from a variety of backgrounds and industries with the goal of shaping a well-rounded, dynamic organisation," Blitzer said.
"HBSE provides a unique opportunity to harness the power of our talented management team and our shared resources to fuel growth and expansion, and a means to accelerate and sustain long-term success."
Harris, the co-founder of Apollo Global Management LLC, and Blitzer, a senior executive at Blackstone Group, acquired the 76ers from Comcast Spectacor in 2011. They then purchased the Devils and the Prudential Center two years later, before buying Crystal Palace in 2015 and Team Dignitas last year.