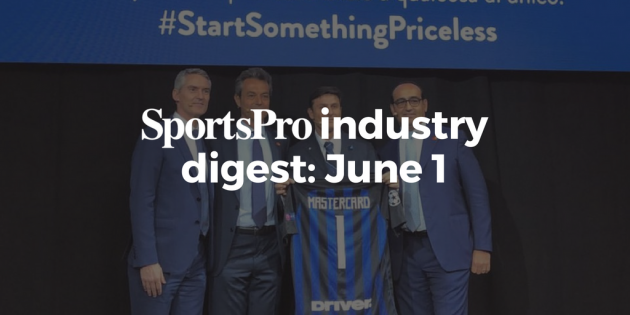 Top story
Italian soccer giants Inter Milan have signed a new partnership with MasterCard, with the initial two-year deal running until 2020.
Ahead of the Serie A club's return to the Champions League, they have secured a deal with one of the key sponsors of the elite European club competition that sees MasterCard become their official payment system.
As part of the deal Inter fans using MasterCard will be able to access club experiences and accrue points that they can use as payment in San Siro official stores.
"It's an important partnership that arrives at the right time with our return to the Champions League, a tournament for which MasterCard is a main sponsor," Zanetti said at the partnership launch.
"It's very important both for us and for MasterCard to take part in this competition; let's hope we can go ahead together for a long time."
MasterCard will be also be involved with Inter's outreach programs, providing fundraising support and generating activations.
Sponsorship
The French Football Federation (FFF) has continued its recent sponsorship drive by partnering with supermarket chain Intermarché in a five-year deal is effective from 1st August until 2023.
Remaining in France, Lavazza has renewed its sponsorship of the French Open grand slam tennis tournament. The new deal sees the Italian coffee company remain a sponsor until at least 2019.
Rugby Australia has locked in real estate developer Mitsubishi Estate as its naming rights sponsor for all Wallabies Tests in Australia in 2018 and 2019. The Japanese company, which is the naming rights sponsor for Super Rugby in Japan, has also signed on as a sponsor of the 2019 Rugby World Cup.
English second-tier soccer outfit Bristol City have announced online casino firm Dunder as their new principal sponsors for the 2018/19 season. Earlier in the week the Championship club confirmed their 2017/18 shirt sponsor, Lancer Scott, had agreed to cut its four year deal short after just two seasons to facilitate the deal.
Further down the English pyramid, Shrewsbury Town have announced Pipekit as their new website and social media partner in a two-year deal.
DKB Handball Bundesliga club SC DHfK Leipzig has extended its partnership with DHL, taking the contract up until the end of the 2019/2020 season. Sponsors.de report the deal is worth €100 000 (US$116,800) a year.
Triathlon promotion, IRONMAN, has announced a multi-year global partnership that expands its relationship with ROKA. The deal designates the Austin-based performance multisport brand as IRONMAN's official global wetsuit and swim partner.
Powerboat P1 is providing its official safety team with helmets supplied by Gath Sports as part of their new partnership deal.
Genius Sports has formed a new partnership with the Football Association of Indonesia (PSSI) to help protect its competitions from the threat of match-fixing. Having initially linked-up last month to drive the league's digital transformation, Genius will now provide the PSSI with a range of integrity services.
Land Rover have announced that it will become the official vehicle sponsor of Lendy Cowes Week, the prestigious UK sailing regatta.
Media Rights
Spanish agency Mediapro has said it has no intention of sublicensing rights to Ligue 1 and will instead rely on striking carriage deals for its planned new channel for the top division of French club soccer. Mediapro's manager Jaume Roures told Reuters: "We have no intention to resell (the rights). You'll see it will be possible to make a channel at €25 per month (for all matches)."
New Zealand telecommunications company Spark has forged a sports partnership with pay-television broadcaster Sky. The deal allows Spark premium bracket customers to get Sky's Fan Pass at a cheaper rate, enhancing Spark's sports offering after it secured 2019 Rugby World Cup rights last month.
Personal Endorsement
Kamil Grosicki, a Poland soccer international and Hull City winger, has signed a brand endorsement deal with the Citi Handlowy banking brand.
Politics & Governance
The International Ski Federation (FIS) has entered into a partnership with Global Sports Investigations (GSI) as part of an ongoing administrative reform process to enhance integrity across skiing and snowboarding.
Ice cream of the day
After signing a three-year deal to become the French Open's official ice cream back in January, Magnum has been an eye-catching presence at Roland Garros. The brand has brought along its 'dipping bar' allowing customers to create their own Magnum. Yes, I want one.
Our industry digest will update throughout the day as deals break so check back to make sure you do not miss a story