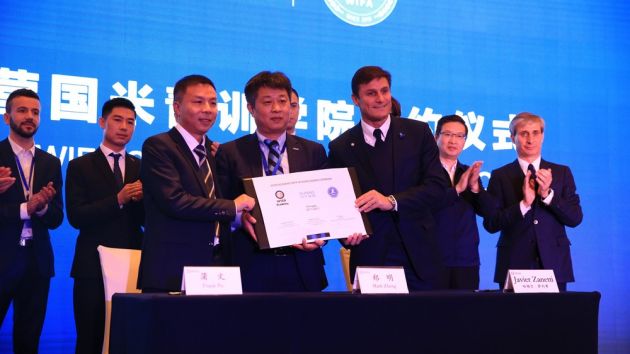 Italian soccer giants Inter Milan have opened their fourth Inter Academy soccer school in China.
The Inter Academy WIFA Sichuan was launched in the city of Chengdu following a strategic agreement between the club, Suning Sports Group and the Wawa International Football Academy (WIFA).
Inter's chain of youth development centres are part of a wider commitment between the Nerazzurri and the club's Chinese ownership group Suning to strengthening soccer and the training of young players and coaches throughout the Asian country.
59 public and private schools will be involved in the project, with a total of 1,410 young people aged between four and 18 taking part. There are five soccer training centres, with two Inter coaches – Valerio Ringoli and Giovanni Barbugian – coordinating and mentoring 30 local instructors under the supervision of technical director Marco Monti.
"We are delighted to be able to unveil this project, which sees us become active players alongside Suning in the Sichuan area, especially given that we are collaborating with such a well-organised, solid partner like WIFA," said Javier Zanetti, Inter Milan's vice president. "We are passionate about strengthening football culture by sharing our technical expertise and training coaches and young players in their countries of origin according to international footballing and ethical standards."
As well as China, the Inter Academy project operates in Argentina, Saudi Arabia, Brazil and Japan, with 15,000 youngsters, 200 local instructors and 30 Italian coaches taking part.