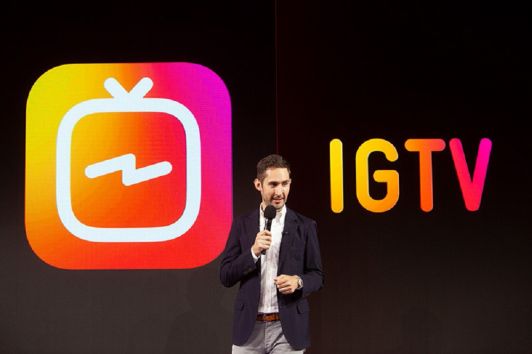 Instagram, the social media platform owned by Facebook, has announced the launch of IGTV, a standalone app for watching long-form vertical video.
The service, which can also be reached through the main Instagram portal, will let users experience a variety of longer-form, vertical videos designed specifically for viewing on a mobile screen.
Viewers can visit a 'browse' tab of personally recommended content, popular videos, of content from 'creators' they follow, as well as being able to access previously started videos. Users will also get callouts from the IGTV button alerting them to new content.
Users will be able to upload vertical videos through Instagram's app or the web, with smaller accounts able to post ten-minute videos, while bigger accounts can post up to 60 minutes of video.
Once logged in to the new service, vertical videos will begin playing automatically— a feature echoing the experience of turning on a TV, which Kevin Systrom, chief executive of Instagram, says is a stand-out of IGTV compared to other video platforms that require the user to search for videos or browse a directory.
Like YouTube, IGTV will also let creators develop Instagram channels that people can subscribe to. Creators will be able to put links in the description of their videos to drive traffic elsewhere.
All videos will be prerecorded, although Instagram product manager Ashley Yuki indicated that live video is something the company will be looking at in the future.
Systrom said that there would be no adverts on IGTV initially, though there would be a revenue-sharing deal with partners eventually.
Systrom and Yuki both cited data during IGTV's launch showing that teenagers are watching 40 per cent less TV than they did five years ago.
"It's time for video to move forward, and evolve," said Systrom. "IGTV is for watching long-from videos from your favourite creators."
He continued: "The tools we watch video on are old and out of date. Think about it—we still watch videos formatted for TV, on a vertical screen."
Instagram's push into video comes after Facebook, which competes with popular mobile apps such as YouTube and Snapchat, has been intensifying its focus on video content over the past several years. In 2016, Instagram launched its version of Snapchat 'Stories,' which let users share ephemeral photo and video clips, annotated with stickers, GIFs and text.
Last year, Facebook created a video tab, Watch, which the company has filled in part with content that it paid studios and news partners to create.
Instagram, which now has one billion users, will be coming up against Google-owned YouTube, which recently announced it has more than 1.9 billion monthly logged-in users.
While YouTube currently has a wider variety of content, Instagram could carve out a niche through curation of creators' and publishers' video content, and opens the door for sports rights-holders and athletes to connect in more ways with young fans.