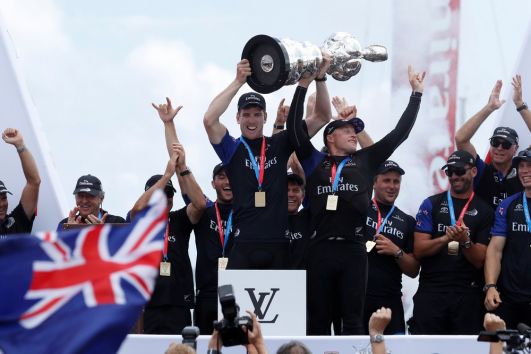 Sailing's Emirates Team New Zealand have appointed Influence Sports & Media as the exclusive commercial agency for the 36th America's Cup, the world's flagship open-water yacht race.
The international sports marketing agency will provide a number of services including partner sales, partner management, media rights and implementation for Team New Zealand's first defence of the 'Auld Mug' since 2003.
The agency team will be led by Alistair Watkins, Stephen Nuttall and Ekrem Sami, and will work closely with Team New Zealand's partners, the Challenger of Record, Luna Rossa Challenge, and Prada, the presenting sponsor of the event.
Grant Dalton, chief executive of Emirates Team New Zealand and the 36th America's Cup, said: "I have known Alistair for several years and I'm extremely pleased to be working with the team at Influence Sports & Media to develop the commercial aspects of the America's Cup defence.
"It is going to be a busy and enjoyable few years putting in place the key elements of the 36th America's Cup – we are confident that all our stakeholders including our sailing and sports fans will love what is coming."
Alistair Watkins, founder and managing director of of Influence Sports & Media, added: "We are excited to be supporting Grant Dalton and the defender of the America's Cup for the next campaign.
"The America's Cup is a truly unique sporting property and given the agency's commercial knowledge and experience of working with global rights holders and luxury brands, we look forward to providing our expertise and playing a key role in ensuring the next America's Cup is the best yet."
The 36th America's Cup is due to take place in Auckland in 2021 when Team New Zealand will aim to defend the title they won in June this year.