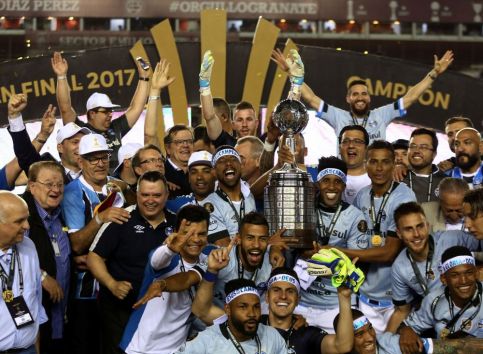 IMG and Perform Group have announced that their new South American joint venture will be known as FC Diez Media.
The new company was established last autumn to handle commercial rights to the top club competitions operated by Conmebol, South America's soccer governing body, for the four-year period covering 2019 to 2022.
Bruno Rocha, the chief commercial officer at Perform Content, will initially lead the venture as acting chief executive. Rocha has previously overseen business development and broadcast sales for the company's other media-focused joint ventures with the Women's Tennis Association (WTA) and the International Basketball Federation (FIBA).
FC Diez Media's first task will be to handle the tender process for audio-visual rights to the Copa Liberdatores, South America's elite club competition, in each of the ten markets that make up the Conmebol region.
On Tuesday, the company issued two separate Requests for Proposals - one covering the rights in Brazil, and the other covering Argentina, Bolivia, Chile, Colombia, Ecuador, Paraguay, Peru, Uruguay and Venezuela. The deadline for bid submissions is 1700 GMT on 26th March.
The company has said it will separately tender the production rights for the competition before going to market with the global media rights within the next few months.
"We are delighted to have created a global media strategy and sponsorship group in FC Diez Media, and it is pleasing to see all the hard work put in by IMG and Perform paying off," Rocha said in a statement.
"We are excited to start working with Conmebol across a range of tournaments, starting with Conmebol Libertadores and look forward to helping the game continue to grow in the increasingly popular South American market."
In addition to procuring broadcast and production partners, FC Diez Media will provide overall consultancy, digital strategy, sponsorship and licensing advise to Conmebol's Sudamericana and Recopa competitions for the same four-year period.
IMG and Perform are jointly resourcing and providing 50/50 financing for FC Diez Media, having shelled out a reported US$1.4 billion to acquire the commercial rights to Conmebol's continental club competitions last September.
On the IMG side, the venture is being overseen by Felix Alvarez-Garmon, the senior vice president in Latin America for IMG Media.
"We are very much looking forward to innovating and evolving the commercial opportunities across the whole spectrum of Conmebol's club competitions," said Alvarez-Garmon.
"These range from game presentation and competition format to digital communication and rights segmentation. It's an incredibly exciting project for the FC Diez Media team to be a part of."