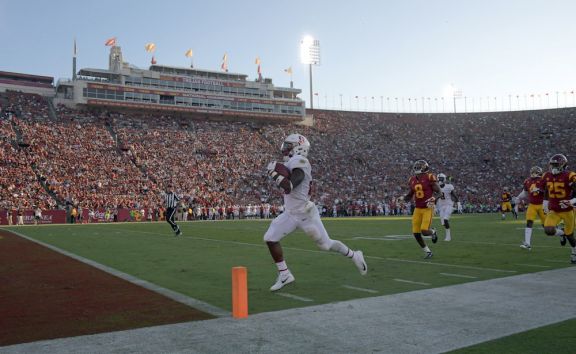 IMG College and Learfield, US college sport's two leading marketing companies, have announced their 'definitive agreement' to merge.
The two companies will create a combined entity that will be jointly owned by IMG and Atairos, the investment firm that bought Learfield for more than US$1.2 billion in late 2016, and will be led by Learfield president and chief executive Greg Brown.
Pending regulatory approvals and other customary closing conditions, the combined company will be headquartered in Plano, Texas, and will operate offices across the United States.
Its board of directors will consist of representatives from Atairos, Learfield, IMG parent WME | IMG, and Silver Lake, a strategic partner and investor in WME | IMG that will acquire a minority stake in the combined business through a new capital deployment.
Terms of the transaction have not been disclosed but industry analysts have estimated that the deal could be worth in excess of US$2.5 billion.
In a joint statement, IMG and Learfield said the merger, which first came to light last month, will 'create a more dynamic service provider in the increasingly competitive sports and entertainment marketing landscape.'
The statement cites numerous benefits resulting from the merger, including 'enhanced services, more consistent promotions, technological innovation, and greater economic opportunities' for the company's university and brand clients.
Following the deal, the two companies say they are planning 'substantial investments' in data, enabling collegiate partners 'to better understand their customers and anticipate their needs.'
"We are excited about partnering with IMG College, and believe that this combination will enable a better, more innovative future for collegiate athletic programs and their fans," said Brown.
"By combining, we will be better positioned to champion the success of collegiate athletics in the years ahead through the development of new services and offerings that will provide greater benefits to our clients and brand partners than either company could do alone."
Learfield oversees athletic multimedia and sponsorship rights for over 130 schools and universities in the US, and has acquired complementary services, including stadium concessions and hospitality services, ticket sales, and online streaming capabilities. 27 of its university media rights relationships are in the 'power five' college sports conferences.
Meanwhile IMG College represents nearly 90 universities and conferences, as well as trademark licensing and consumer rights products for over 200 schools, conferences and bowl games.
The two companies' combined portfolio includes more than 70 per cent of Division One universities, including over 80 per cent of 'power five' member schools.
"This merger will bolster the opportunities available for brands across the sports landscape and deliver greater value for our partner schools through enhanced services in areas including data, ticketing, and retail insight," said Patrick Whitesell, the co-chief executive of WME | IMG.
"We are confident that together we will better enable our partner institutions to generate much-needed revenue and look forward to furthering our investment in this space and generating enhanced value for collegiate sports."