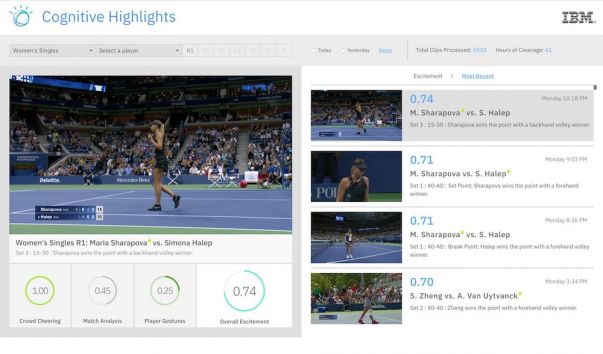 IBM has announced the launch of Watson Media, a new suite of artificial intelligence (AI) solutions which are now being used by the United States Tennis Association (USTA) to create automatic video highlights from the US Open tennis tournament.
Watson Media's debut coincides with a reported five-year renewal of IBM's longstanding partnership with the USTA, which has been in place for nearly three decades.
At the centre of the new business unit is a solution called Cognitive Highlights, an AI-powered technology that identifies critical moments in matches and automatically produces highlight videos for distribution.
Cognitive Highlights works by analysing statistical data, crowd sounds and sentiment, and player reactions through action and facial expression recognition.
At the US Open, which is currently taking place in Queens, New York, the system is being used to create highlights on seven courts, enabling the USTA to streamline its video production process and to distribute content efficiently via its social media channels.
The finished video highlights will be released each day on the USTA Facebook page, across all of the governing body's own digital platforms, via the US Open apps, and on-site at Flushing Meadows in an area known as the IBM Watson Experience.
"The US Open is packed with so much action across so many courts that even the fastest video team is challenged to keep pace with what's happening," said Noah Syken, IBM's vice president of sports and entertainment partnerships.
"To meet that challenge, Watson is now watching the matches alongside the USTA to help bring fans closer to the best moments across the courts shortly after they happen. We're seeing this technology come to life through tennis, but the entire IBM Watson Media portfolio has the potential to impact many industries."
IBM's Cognitive Highlights technology was previously tested at this year's Masters golf tournament, and also served as part of the content production system at Wimbledon.
An IBM statement said Cognitive Highlights and other Watson Media innovations, including enhanced video content searching tools and automated captioning, will be made available to other properties from September via the IBM Cloud.
'IBM Watson Media is designed to provide companies with a more comprehensive view of video than other technologies on the market,' read the statement. 'IBM Watson Media will provide a deep analysis of objects, people and words, as well as concepts, emotional overtones and character personalities.
'This deep understanding of video can help companies deliver more relevant content to consumers, provide advertisers more effective matches for their products and help production teams find specific parts of videos.'
As well as generating automated US Open match highlights, IBM is also working with the USTA to integrate AI technologies into the tournament's official app.
Through the integration of an IBM solution known as Cognitive Concierge, for example, the app's Guest Info feature will incorporate a Watson bot that can answer fan's questions, enabling tournament spectators to access an array of information pertaining to their visit, including scoring, schedules, transportation, and dining options.
"An afternoon or evening at the US Open, especially for first time visitors, has really never been easier to enjoy," said Kirsten Corio, USTA's managing director of ticket sales, hospitality and digital strategy.
"Watson's capabilities within the US Open app will help our fans plan ahead, move around the grounds at their own pace, and always know where they are and where they want to go."