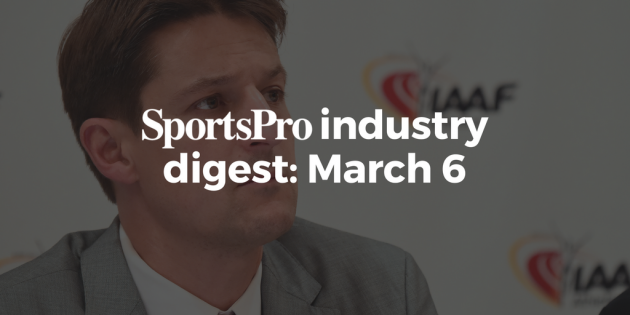 Athletics: Olivier Gers has resigned 18 months into his role as chief executive of the International Association of Athletics Federations (IAAF) citing differences with the global governing body of athletics' commercial strategy.
The Frenchman was appointed by the IAAF in 2016 amid much anticipation after a six-month search involving more than 200 candidates and his resignation comes as a surprise.
"While I'm sorry to be leaving, the pre-existing commercial framework makes it difficult for me to apply my talents and fully leverage the assets of the IAAF in the way I would like," said Gers.
"Given my stance, I have resigned so the IAAF can pursue a different commercial strategy for the sport."
The IAAF said Gers would continue in his role for the next three months after which a new chief executive would be recruited.
The news is another blow to IAAF president Sebastian Coe in what has been a difficult period for the Briton and his organisation.
Coe was criticised this week by a British parliamentary report for providing "misleading" answers to questions in a 2015 hearing about what he knew about doping in Russian athletics before he took office.
Coe, who was elected IAAF chief in 2015, had previously denied misleading the committee.
Elsewhere, Air France has confirmed it will return as the official airline sponsor of the Los Angeles Marathon for the third year in a row.
Chinese sprint star, Su Biangtian has become a brand ambassador for Chevron Havoline in his home market.
Soccer: Scottish top-flight side Dundee have announced an extension with main sponsor McEwan Fraser Legal for at least another season.
In Brazil, the Santa Catarina Soccer Federation (FCF) has launched its own streaming platform, FCPlayTV, to show matches from its regional 2018 championship that are not broadcast by rights holders NSC TV and SportTV.
Cycling: Volkswagen-owned Czech car manufacturer Skoda has signed up as the main sponsor of the International Cycling Union (UCI) Europe-level 2018 Deutschland Tour. Skoda will provide 40 organiser vehicles and put its name to the race's green, best sprinter jersey.
British-born Irish rider Dan Martin has signed a partnership deal with sports eyewear brand Roka.
Cricket: Indian telecommunications company Reliance Jio's over-the-top platform JioTV has secured exclusive Indian digital rights for the upcoming Nidahas Trophy Twenty20 tournament in Sri Lanka.
English county outfit Sussex have announced a partnership with local firm Oliver & Graimes (O&G) to become the club's creative marketing agency for the next five years.
Motorsport: Austrian motorcycle manufacturer KTM will replace Yamaha as partners to the French-run Tech3 MotoGP team from 2019 in a three-year deal.
European Rally Championship (ERC) has named e-commerce company Oscaro as official series partner in a two-year agreement.
Commonwealth Games: German financial services company Allianz has agreed a deal to sponsor the upcoming Gold Coast 2018 and also renewed its partnership with the Australian Paralympic Committee.
Bull riding: Brazilian networks, the TerraViva Channel and BandSports, both units of Bandeirantes, have sealed a five-year agreement to televise Professional Bull Riders events in their home territory.
King of the day
Conor McGregor's new role as a brand ambassafor for Burger King is definitely a winner. The Ultimate Fighting Championship (UFC) star's first advert for the fast food giant sees McGregor sat on a private jet and play up to some familiar 'Notorious' tropes: trash talk, wealth and his own greatness. It is certain to be a viral hit.
Check out the video below
Our industry digest will update throughout the day as deals break so check back to make sure you do not miss a story