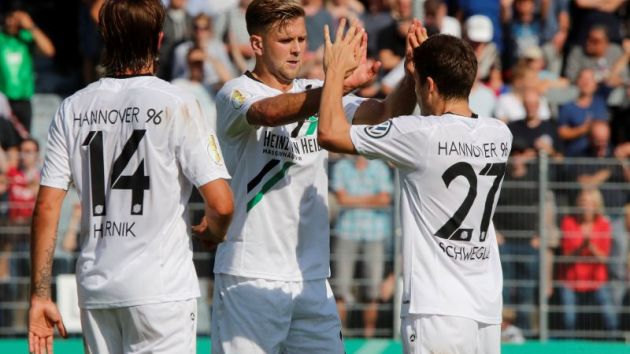 Top-tier German soccer side Hannover 96 have announced a partnership with Falkensteiner until June 2021.
The company will be the exclusive hotel partner of the Bundesliga outfit from 2017/18, as well as of the team's youth academy.
Falkensteiner will have a brand presence across Hannover's digital channels, as well as around the club's HDI Arena ground, and in youth marketing campaigns.

As part of the agreement, Hannover are to complete their summer training camp ahead of the 2018/19 season in Falkensteiner hotels.

In addition, the team's soccer training school will host over 20 holiday camps in selected Falkensteiner hotels in Croatia, Austria and Italy.

The hotel group will stage competitions for youth academy attendees to win a behind-the-scenes visit to Hannover's training ground and tickets to matches.

"We are thrilled about the cooperation with Hannover 96 and at the same time proud of our first-time involvement in the Bundesliga," said Otmar Michaeler, chief executive of Falkensteiner. "The partnership represents a win for all sides. We look forward to further spreading our brand in Germany and contributing to Hannover 96's success. We will act as the exclusive host of the football school holiday camps."

"We are extremely pleased to welcome one of Europe's largest family-owned hotel chains as the new exclusive partner of Hannover 96," added Martin Kind, managing director of Hannover 96. "Due to the very close cooperation in the area, we have succeeded in gaining another strategic partner for Hannover 96 in the long term."

Horst Heldt, manager of Hannover 96, said: "The conditions we found during the summer training camp at the Falkensteiner were outstanding, which is why I am very happy that we will continue our summer training camp in Falkensteiner hotels over the next few years to perform."

Hannover 96 were promoted to the Bundesliga for the 2017/18 season after finishing second in Germany's second tier in 2016/17. They are currently tenth in the league after winning seven of their 18 games. They came away with a narrow 3-2 victory against Mainz at home on 13th January, and will travel to the Veltins-Arena to take on third-placed Schalke on Sunday.