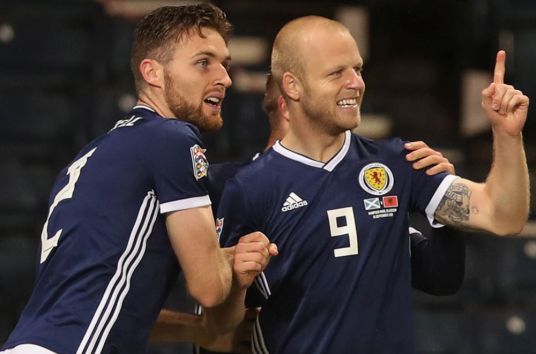 The Scottish Football Association (SFA) has announced that the men's national team will continue to play its home fixtures at Hampden Park.
With the governing body's current lease to the Glasgow venue due to expire in 2020, the SFA had contemplated a move to Edinburgh's Murrayfield Stadium, where Scotland's rugby team plays its games.
However, the nation's soccer body has ended speculation by purchasing Hampden Park permanently for UK£5 million from Scottish League Two club Queen's Park, who owned the 51,866-seater stadium and play their home fixtures there. The SFA will now take ownership of the ground in two years' time at the expiration of the lease.
Half of the UK£5 million sum required has been put forward by Scottish businessman Lord Willie Haughey, who previously pledged UK£2 million to the Scottish Cup when the tournament did not have a main sponsor between 2008 and 2010.
As part of the deal between the parties, Queen's Park will relocate their matches to Lesser Hampden, a smaller venue situated immediately adjacent to the main ground.
Although the Glasgow club will receive UK£5 million from the agreement with the SFA, it is thought that Scottish soccer's governing body will have to pay out close to UK£19 million in order to finalise its permanent move to the formerly leased venue as a result of liabilities dating back to the arena's redevelopment in 1998.
Ian Maxwell, chief executive of the organisation, has assured supporters that the SFA will focus on making improvements to the often-criticised stadium, the deficiencies of which had made talk of a move to the 67,000-seater Murrayfield attractive among Scottish fans.
He said: "Our mission is to inspire a nation to love the game and having a home that we can call our own is an important part of that.
"While we are now committed to Hampden Park we also recognise that it needs to change. We have heard the fans' views throughout the process and agree with them that we need to improve access, transport links and the overall experience. We are committed to doing that.
"With that in mind, we need all of Scotland to pull together to make it Scotland's national stadium. We have heard many voice their support for the stadium. We need collective action, driven by the Scottish FA, to ensure it remains the beating heart of Scottish football."
The SFA board had met on 29th August but had failed to reach a decision on where the national soccer team should play its games.
Alan McRae, president of the SFA, added: "It was a hugely difficult decision and I would like to place on record our thanks to Scottish Rugby for their professionalism throughout the process.
"They made a truly compelling case to move to Edinburgh and gave us a very difficult decision to make."
He added: "This decision is about what was best for Scottish football and our members. It is about the future of football in Scotland."