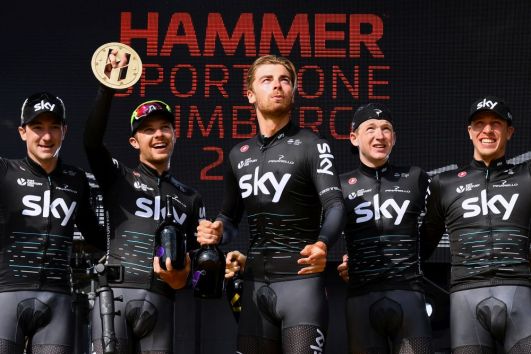 The Hammer Series, the pro cycling series staged by Velon and Infront, has announced partnerships with Facebook, Twitter and DailyMotion to stream all three of its 2018 races live on their platforms.
Traditionally other pro-cycling races have media rights deals restricting their broadcast. The agreement sees Hammer Series fans able to watch the events live, on any device and without being charged as well as opening up opportunities for direct interaction.
Hammer launched last year in Limburg as a new professional road series focused on cycling as a team competition with a format designed to deliver a definitive verdict on the best team. This year the series encompasses three events in Limburg, Stavanger and Hong Kong but ultimately plans to grow to ten events.
Velon chief executive Mark Buttermann is keen to stress the importance of the fan experience in growing the series.
He said: "In everything we do, we want to bring more of the race excitement to the fans for them to get more of the action. We're delighted to announce all of the races for the series will be seen live everywhere because Hammer is about the fans and delivering the very best action to them is our goal."
Mark Buttermann, director of summer sports at Infront, added: "After a very successful digital-all approach for the inaugural race in 2017; being able to live stream all three races of the Hammer Series in 2018 across the leading social platforms represents a major milestone for us and perfectly reflects the digital essence of Infront's and Velon's project.
"This will enable Hammer Series to engage with even more fans and provide them with live thrilling content and data for free on any device, anywhere and at any time."
The inaugural 2017 Hammer Series edition was won by Team Sky in Limburg.