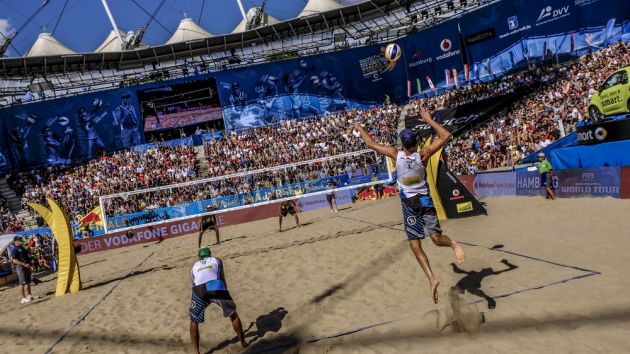 The International Volleyball Federation (FIVB) has awarded the 2019 edition of the Beach Volleyball World Championships to Hamburg, Germany.
The flagship double-gender tournament is provisionally scheduled to take place between 28th June and 7th July at the 13,000-seater Am Rothembaum Stadium, and will see 48 teams compete for places at the Tokyo 2020 Olympic Games.
The news brings the World Championships to Germany for a second time, after Berlin played host to the tournament in 2005.
Hamburg also staged last year's Beach Volleyball World Tour Finals and is due to hold them again in August.
"I have no doubt that the city will be an excellent host for the 2019 Beach Volleyball World Championships, and will build up on the success of the 2017 edition staged in Vienna," said Ary Graça, president of the FIVB.
"This event always demonstrates the FIVB's core principles of skill, athleticism and teamwork, acting as one to achieve the ultimate success."
"It is going to be an amazing opportunity for Hamburg to show to the world how much beach volleyball means to the people of this city," added German volleyball player Laura Ludwig, who won the women's competition at the 2017 World Championships in Vienna.
"Hamburg's reputation for the sport has already grown significantly and, with another World Tour Finals planned this year plus the World Championships next year, this status will be enhanced even further."
Germany's Ludwig and partner Kira Walkenhorst claimed the 2017 World Championships title after winning gold medals at the 2016 Olympic Games beach volleyball event in Rio de Janeiro.