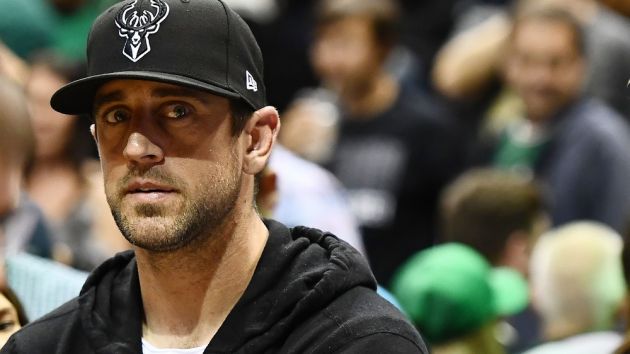 Green Bay Packers star Aaron Rodgers has invested in the National Basketball Association's (NBA) Milwaukee Bucks.
The Wisconsin-based NBA franchise made an announcement on Friday during their 116-92 win over the Boston Celtics in the third game of their best-of-seven play-off series.
Rodgers, star quarterback for Wisconsin's NFL team, joins an ownership group which includes Wesley Edens, Marc Lasry, Jamie Dinan and Mike Fascitelli. In doing so, the 34-year-old has become the only active NFL player to be a minority owner of an NBA team.
Rodgers attended Friday's game alongside Edens and his girlfriend, Danica Patrick. The two-time NFL Most Valuable Player (MVP) added that he had been in talks with Edens for years about taking a minority stake in the team.
"I have proudly called Wisconsin my home for the past 13 years, and I am thankful for the friendships and the opportunities I have been given to live and play here," Rodgers said. "I am excited and honoured to deepen my connection to the region by joining Wes Edens, Marc Lasry, Jamie Finan, Mike Fascitelli and the ownership group of the Milwaukee Bucks.
"As a huge fan of the NBA and the sport of basketball, this is a dream come true for me, and I look forward to furthering my affinity for Wisconsin sports as a minority owner in a team I love and support."
'Aaron is a winner, a Wisconsin icon, and we are honoured to welcome him to our partnership group of the Milwaukee Bucks,' said the Bucks ownership group in a statement. 'With our team in the playoffs and our new world-class arena opening this fall, it's an exciting time for this city and the Bucks. We are thrilled for Aaron to be with us.'
"That's the exciting part is the arena is going to be open," added Rodgers. "We have an absolute superstar in Giannis [Antetokounmpo]. He's a top three player in the league in my opinion. Khris [Middleton] has been incredible these play-offs. We have the reigning rookie of the year. I think things are definitely looking up for Milwaukee basketball."