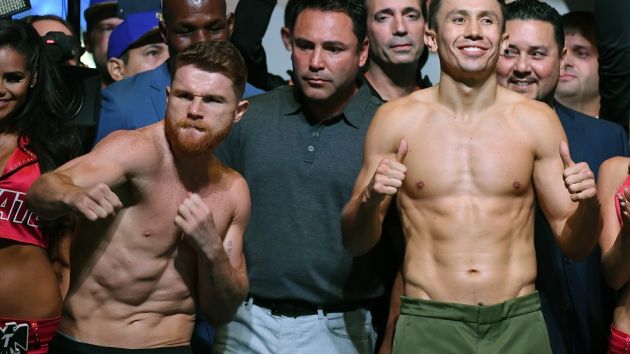 Oscar De La Hoya's Golden Boy Promotions has agreed a deal with Facebook which will see the social media platform stream a series of fights and other original boxing programming.
The boxing promotion firm will air five fight nights for free in the US on Facebook Watch, the social media giant's video-on-demand service, as well as globally on the Golden Boy Promotions' Facebook Watch page.
Golden Boy will also team up with promoter Main Events, to market events on the series.
The fights and shoulder programming will be produced in-house by Golden Boy's production unit. The additional content will include rebroadcasts of past fights featuring commentary from the boxers themselves, as well as celebrities, prominent influencers and boxing authorities.
The broadcasts will also incorporate real-time fan interaction and engagement through Facebook's social video platform.
"This game-changing deal for the sport of boxing places Golden Boy Promotions and its stable of fighters at the intersection of live sports mega-casting and ultimate fan engagement," said Oscar de la Hoya, chairman and chief executive of Golden Boy Promotions. "Our team is now positioned to present world-class boxing from Silicon Valley, to Madison Avenue, to Hollywood and to the rest of the world. The reach of Facebook is just incredible, and our sponsorship conversations will truly resonate with brands across all categories."
"Through this unique partnership, a global community of sports fans will have free access to some of boxing's most exciting live bouts and be able to interact with the action like never before," added Devi Mahadevia, North America live sports programming lead at Facebook.
The first of five live fight nights on Facebook will debut on 11th August and feature Jesus Rojas defending his WBA World featherweight title against Joseph "JoJo" Diaz Jr at the Avalon Theatre in Hollywood.
Forbes report that Facebook is paying a rights fee estimated to be US$250,000 to US$1 million per event, which is comparable to the sum HBO or Showtime would pay to secure a night of fights on their premium channels.
Facebook has been making a big play in sports through its Watch service. Live streaming events include college basketball and football, soccer, surfing and 20 MLB games
Boxing has been the source of much interest from streaming platforms recently. ESPN's over-the-top (OTT) ESPN+ service and Perform's DAZN streaming service have both made forays in boxing rights in the last few months.