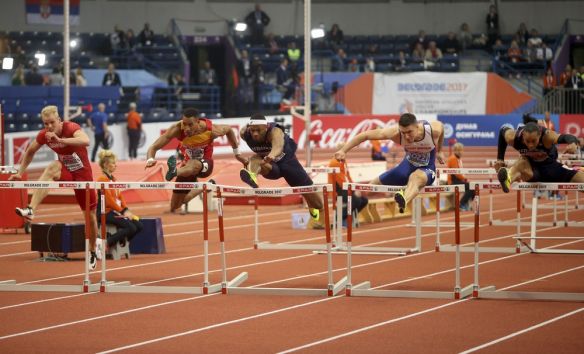 The Scottish city of Glasgow has been chosen to host next year's European Athletics Indoor Championships.
The competition will be staged at the 5,000-seater Emirates Arena from 1st to 3rd March 2019, marking the first time the biennial event has been staged in Glasgow since 1990. The championships are expected to welcome 600 athletes from over 45 countries, along with a total of 18,000 spectators during the three-day event.
The European Athletics Indoor Championships are the latest major event to be awarded to Glasgow, with the city currently preparing to co-host the inaugural multi-sport European Championships which take place in August this year.
"We are delighted to be hosting the European Indoor Athletics Championships 2019," said Billy Garrett, director of sport and events at Glasgow Life and co-chair of the Glasgow 2019 steering committee. "This will be one of the biggest events on the athletics calendar and is sure to further enhance Glasgow's reputation as a world class destination for international sporting events.
"We can't wait to welcome the 700 athletes and 18,000 spectators to the city and we are confident that the people of Glasgow will stay true to form and welcome the visiting representatives from the 45 countries with the warmth and friendliness for which the city is renowned. We are sure that the success of these championships will be another hugely positive step for Glasgow on its ever-developing and outstanding sporting journey."
Cherry Alexander, major events director at British Athletics and head of competition for Glasgow 2019, added: "The turn-out for the Muller Indoor Grand Prix last weekend in Glasgow showed exactly why we are so excited to be bringing the European Indoor Championships back to Scotland – the crowd were terrific and the venue served us brilliantly on all things operations, both of which were conducive to the athletes performing outstandingly.
"The 2014 Commonwealth Games was an insight into just how well Scotland can play host to international sporting events, and I am sure that Glasgow 2019 will be another step forward in cementing Scotland's status as a first-class deliverer of world-class sporting events."