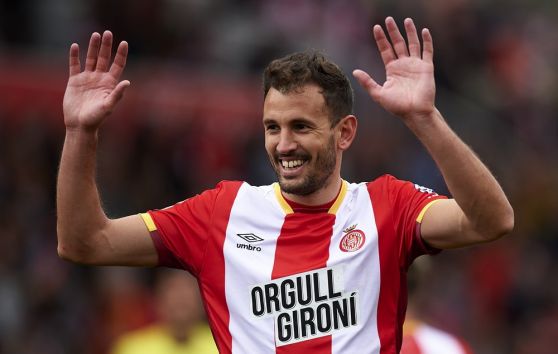 Top-flight Spanish soccer side Girona have revealed plans to further expand the capacity of their Estadi Montilivi home after enjoying a successful first season in La Liga.
The project will see an additional 1,000 seats installed in the Gol Sur stand, which will result in the stadium's capacity growing from 13,500 to 14,500.
400 of the new seats will be designated to VIPs, while 300 will be made available to club members and the remaining 300 are to be sold on matchdays.
When Girona got promoted to Spanish soccer's top flight back in 2017, Estadi Montilivi could only hold 9,200 spectators, but the club put temporary measures in place to ensure more than 4,000 seats were added ahead of their La Liga debut.
Girona enjoyed a successful first season in La Liga, finishing tenth and recording a memorable victory over Real Madrid in the process, meaning they remain obliged to take steps to meet the minimum capacity set in the statutes of La Liga, which is 15,000.
The team is also now backed by City Football Group, which last August added Girona to its global portfolio of soccer clubs, which includes Premier League champions Manchester City, Major League Soccer's (MLS) New York City and Melbourne City of Australia.
News of Girona's stadium expansion coincided with the announcement of Marathonbet as their new main sponsor, filling a category which was vacant during the 2017/18 campaign.
As part of the deal, the international online bookmaker, which also recently became a global partner of Manchester City, will have its logo adorn the front of the team's playing shirts from the start of the 2018/19 season.
"With this link we have fulfilled our objective of establishing an alliance with a renowned and prestigious company," said Girona chief executive Ignasi Mas-Bagà. "Marathonbet will be our first main sponsor since winning promotion to La Liga, so this is a real milestone for the club. We intend to create a close, long-term relationship so that both entities can continue to grow together."