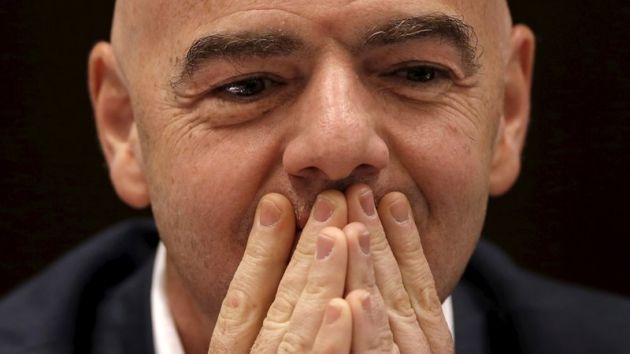 Gianni Infantino has been elected president of Fifa, world soccer's governing body.
The Uefa general secretary beat Asian Football Confederation (AFC) president Sheikh Salman bin Ebrahim Al Khalifa, Jordan Football Association president Prince Ali bin al Hussein, and former Fifa official Jérôme Champagne of France after two rounds of a ballot at an extraordinary general congress at Fifa's headquarters in Zurich, Switzerland. He will serve a four-year term.
South African candidate Tokyo Sexwale withdrew his candidacy at the end of an entertaining address to members before voting began. All five candidates had been given 15 minutes to make their case to the Fifa electorate.
Infantino replaces Sepp Blatter, who had been president since 1998. Blatter called an election last June, just weeks after winning a fifth four-year term, after deciding he would lay down his mandate in the wake of a series of arrests and corruption allegations involving soccer officials and executives. However, the 79-year-old Swiss was subsequently suspended from soccer for eight years - reduced to six years this week - for making a payment of CHF2 million (US$2 million) to Michel Platini, president of European confederation Uefa. Platini is also serving a six-year suspension, which ended his long-held hopes of succeeding Blatter.
"We will restore the image of Fifa and the respect of Fifa and everyone in the world will applaud us."
In the first round, where candidates were required to secure two-thirds of the vote to win, Infantino took 88 votes to Sheikh Salman's 85, Prince Ali's 27 and Champagne's 7. A simple majority was needed in the second round, with Infantino taking 115 votes to Sheikh Salman's 88. Prince Ali held on to four votes, with Champagne losing all support.
Representatives of 207 member associations voted, with the Kuwaiti and Indonesian federations ineligible due to suspension.
Speaking to the assembled members on his election, a visibly stunned Infantino switched - as he had done in his final pitch - between several languages.
"Dear friends, I cannot express my feelings in this moment," he said . "I told you I went through a journey, an exceptional journey, a journey which made me meet a lot of fantastic people, who love football and breath football and live football every day.
"We will restore the image of Fifa and the respect of Fifa and everyone in the world will applaud us. I want to work with all of you together in order to restore and rebuild a new era of Fifa where we can put again football at the centre of the stage. Fifa has gone through sad times, moments of crisis, but those times are over. We need to implement the reform and implement good governance and transparency. We also need to have respect. We're going to win back this respect through hard work, commitment and we're going to make sure we can finally focus on this wonderful game that is football."
Infantino, 45, entered the race after the suspension of Platini, who had long been the favourite to succeed Blatter. A polyglot and trained lawyer, he joined Uefa in 2000 from the the International Centre for Sports Studies (CIES) at the University of Neuchâtel. He worked in a number of roles for the confederation before becoming general secretary in October 2009.
In his time at Uefa, Infantino worked closely with Platini on the expansion of the European Championship and the introduction of Financial Fair Play regulations for clubs. He was also the regular host of Uefa competition draws.
Among Infantino's pledges as Fifa president is the release of more of Fifa's income, which has gone in recent years into a growing cash reserve, to member associations. He is also in favour of exploring an expansion of the World Cup to 40 teams, with regions hosting rather than nations.
Earlier in the day, 189 members voted in favour of a package of reforms that will lead to the abolition of the Fifa executive committee. 22 opposed the reforms, with six abstaining.
The ExCo will be replaced by the Fifa Council, whose membership will grow to 37 seats including that of the president. In a victory for current executive committee member Moya Dodd of Australia, each of Fifa's six continental confederations must put forward at least one woman to join the council.
"Fifa has gone through sad times, moments of crisis, but those times are over. We need to implement the reform and implement good governance and transparency."
Other reforms approved in the vote include eligibility checks to join the Fifa Council, limits of three four-year terms for all elected Fifa positions, and public disclosure of individual earnings from Fifa activities.
Fifa will also implement measures aimed at separating powers between those responsible for its sporting and business operations, with an independent Audit and Compliance Committee overseeing the activities of the new council and the general secretariat. The overall number of committees will be reduced from 26 to nine in order to make room for independent appointments.
Human rights requirements will be written into Fifa statutes, while there will also be a new Football Stakeholders Committee to represent players, coaches, clubs, leagues and match officials.
The new rules were drafted after consultation by a reform committee led by former International Olympic Committee (IOC) secretary general François Carrard and Fifa audit and compliance committee chairman Domenico Scala.