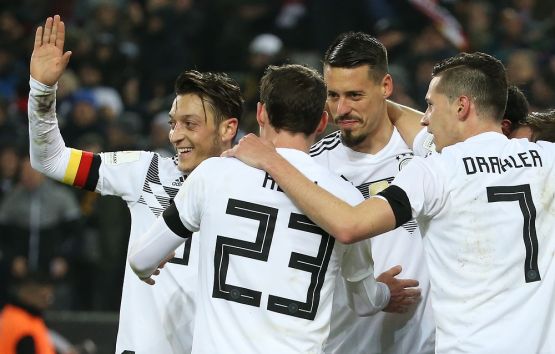 The German Football Association (DFB) has submitted its bid book to host the 2024 Uefa European Championships soccer tournament.
DFB president Reinhard Grindel handed over the association's bid documents to European soccer's governing body Uefa on Tuesday alongside bid ambassador and former Germany and Bayern Munich captain Philipp Lahm.
The DFB initially formally declared its interest in bidding to host Euro 2024 in March 2017, and has now submitted its bid dossier ahead of the 27th April deadline.
Reinhard Grindel, president of the DFB, said: "We are submitting an excellent bid concept for a perfectly organised tournament, which offers a great opportunity for Uefa to further develop European football.
"Uefa Euro 2024 staged in the heart of Europe will enable all of the participants to be given the best possible support by their fans. At the same time, we are building bridges between people of different nations, and are making an important contribution to bringing alive both the values of football and those of a modern civil society."
Friedrich Curtius, general secretary of the DFB, added: "A key principle of Uefa Euro 2024 in Germany should be to share football knowledge with all national football associations across Europe. From the start of the planning phase, we will involve all of the Uefa member associations in the organisation and staging of the tournament, thereby providing modern knowledge-sharing platforms."
The DFB's final bid plan includes hosting matches in Berlin, Dortmund, Düsseldorf, Frankfurt am Main, Gelsenkirchen, Hamburg, Köln, Leipzig, Munich and Stuttgart.
If Germany's bid is successful, Euro 2024 would be the first major men's national team soccer tournament staged in the country since the 2006 Fifa World Cup. West Germany hosted the European Championship in 1988.
Turkey, which is Germany's sole rival for the hosting rights to the international soccer tournament, is scheduled to submit its bid book later this week.
Turkey has launched two previous unsuccessful bids for to hold the European Championships. A co-hosting offer with Greece for Euro 2008 was overlooked in favour of Austria and Switzerland, and the solo 2012 bid for the edition went to Poland and Ukraine.
Uefa is due to announce the host of Euro 2024 at its executive committee meeting in Nyon on 27th September.