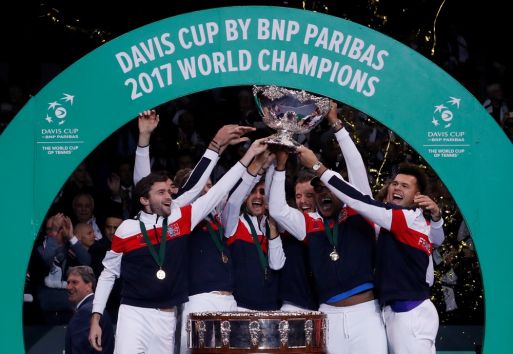 The International Tennis Federation (ITF) has unveiled plans for a 25-year, US$3 billion partnership with investment group Kosmos to transform the Davis Cup international men's team competition and generate significant revenues for global tennis development.
The global governing body's board of directors have unanimously backed a proposal to create a new annual season-ending World Cup of Tennis Finals that will crown the winners of the Davis Cup.
The event, which the ITF says it hopes to launch in 2019, will be staged by Kosmos in partnership with the ITF in November each year, and will feature 18 nations competing over the course of one week. The proposal remains subject to further development, and is still awaiting the completion of due diligence and finalisation of a formal agreement.
Kosmos was founded by Spanish soccer star Gerard Piqué and is also backed by Hiroshi Mikitani, the chairman and chief executive of Japanese ecommerce firm Rakuten, which is the main sponsor of Barcelona, who Piqué has played for since 2008.
The company's investment will lead to significant increases in prize money for players and ITF member nations, as well as the funding of grass roots projects and other development programmes.
"This is a complete game-changer for the ITF and for tennis," said ITF president David Haggerty. "Our board has supported a bold and ambitious plan for the future of Davis Cup by BNP Paribas, one of the sport's most cherished and important events and a key cornerstone in our ITF 2024 strategy.
"Our vision is to create a major season-ending finale that will be a festival of tennis and entertainment, featuring the world's greatest players representing their nations to decide the Davis Cup champions. This new partnership will not only create a true World Cup of Tennis, but will also unlock record levels of new investment for future generations of tennis players and fans around the world."
"Kosmos is thrilled to join in this exciting partnership with the ITF," said Piqué. "Together we can elevate Davis Cup by BNP Paribas to new heights by putting on a must-see World Cup of Tennis Finals featuring the top nations and top players. Kosmos will also invest $3 billion over 25 years into tennis that will help develop the game worldwide."