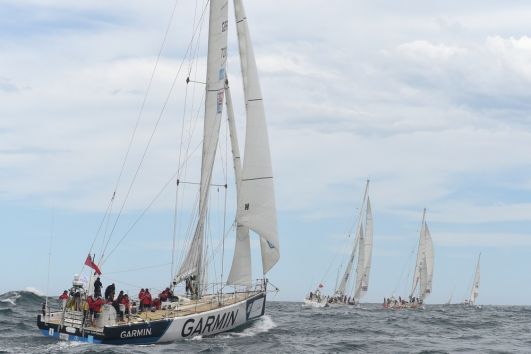 Garmin has been announced as a team partner of the 2017/18 Clipper Round the World Yacht Race for a third consecutive campaign.
The GPS navigation and wearable technology company made its debut in the 2013/14 edition of the event, before finishing fourth in 2015/16. Garmin is expected to use the race's global circuit to connect with customers all over the world.
The team will be captained by 29-year-old Gaëtan Thomas, who will become the first Belgian skipper to compete in the twenty-year history of the showpiece.
Sir Robin Knox-Johnston, Clipper Race co-founder and chairman, said: "Just as the Clipper Race provides people with the skills, tools, and opportunity to circumnavigate the globe, Garmin develops and builds products to enhance the lives of its customers, so people can make the most of the time they spend pursuing their passions.
"I'm very pleased a Garmin boat will once again be racing around the world. This partnership will allow our crew to continue to work with and use the latest Garmin products, to aid and capture the race of their lives. I wish Gaëtan and his Garmin team all the best for the Clipper 2017/18 Race."
Mattias Daldborg, Garmin's marketing and communications manager, added: "When the opportunity arose to continue our official supplier partnership and once again be a proud team sponsor, we were thrilled to do it for the 2017/2018 Clipper Race.
"The global communication strategy of the Clipper Race enables us to communicate and engage with a global audience with all that Garmin has to offer from our marine electronics through to our action cameras and dedicated fitness products."
The 2017/18 event will be the 11th edition of the Clipper Round the World Yacht Race, and gets underway in Liverpool, UK on 20th August.